I am kind of a fan of TV…ok more of an addict.  When I am editing I love to have a great show or documentary playing in the background.  Granted, some shows are harder to "watch" than others while editing and some I have got sucked into and stayed up WAY too late coming up with things to do so I can finish an episode…or two.  I thought I would share with you some of my favorite series and why I love them!  Most of them can be found on Netflix or Hulu-so get watching and we can talk about them later 😀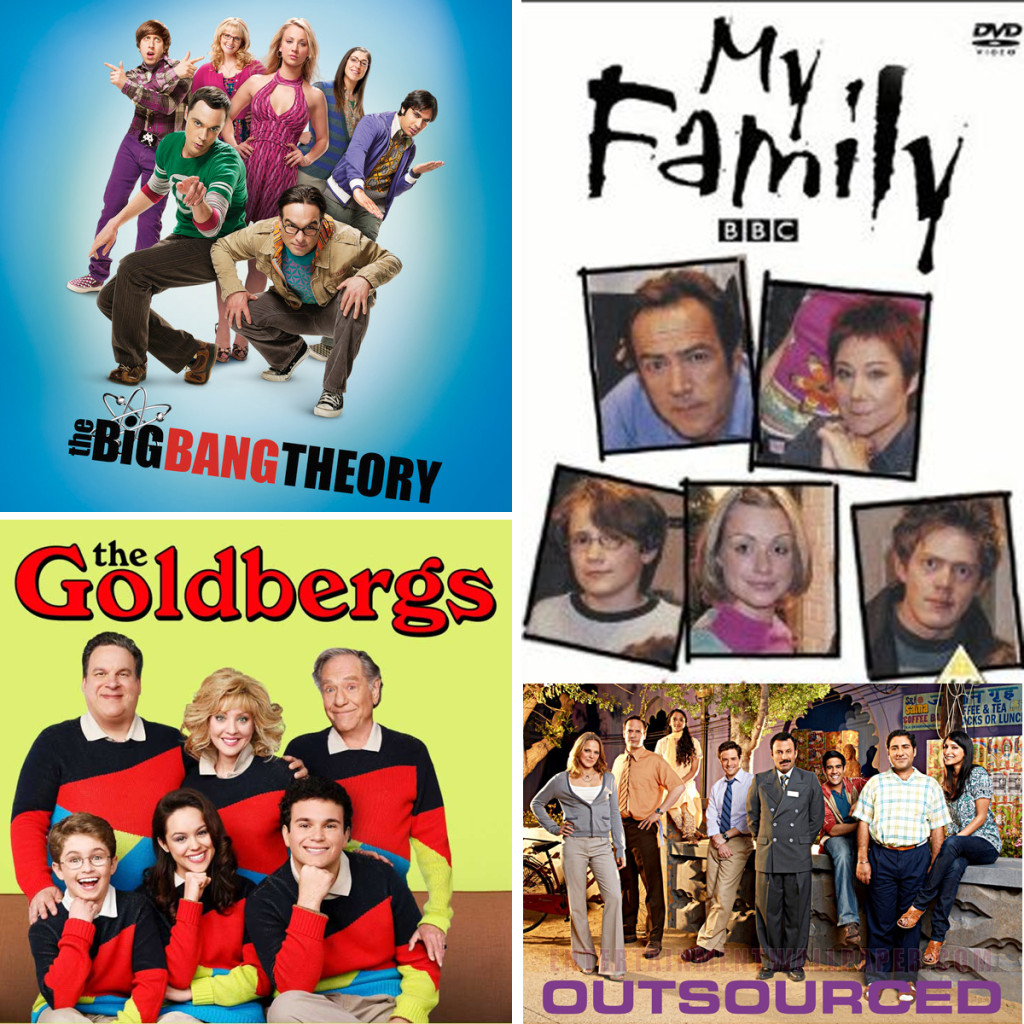 First up is some of my favorite comedies.
The Big Bang Theory is a smart and quirky comedy that makes my inner geek heart smile.  Sheldon is my favorite and has some great lines like, "One cries because one is sad.  For example, I cry because others are stupid and that makes me sad." or "Don't you think that if I were wrong I'd know it?"  Great stuff like that and more here!
My Family is a British Comedy from BBC and is about a dysfunctional, but very likable family.  The mom is the actress that played Madam Hooch in Harry Potter-so that is bonus points right there!  The dad is probably  my favorite character, but Nick is a close 2nd.  You can see some great moments with Nick here.
The Goldbergs is by far my new favorite show. Based in the 80's it has a cast that makes you believe this is an actual family.  The "sMother" is one of our favorite parts of the story line and you can see some great clips here.
Outsourced was one of my husband's and I's favorite comedies that got cancelled too quickly.  It is based in a call center in India and I loved the telemarketer story line since I was one for five years–plus it is just really, really funny.  Not great quality, but here is a clip from Outsourced.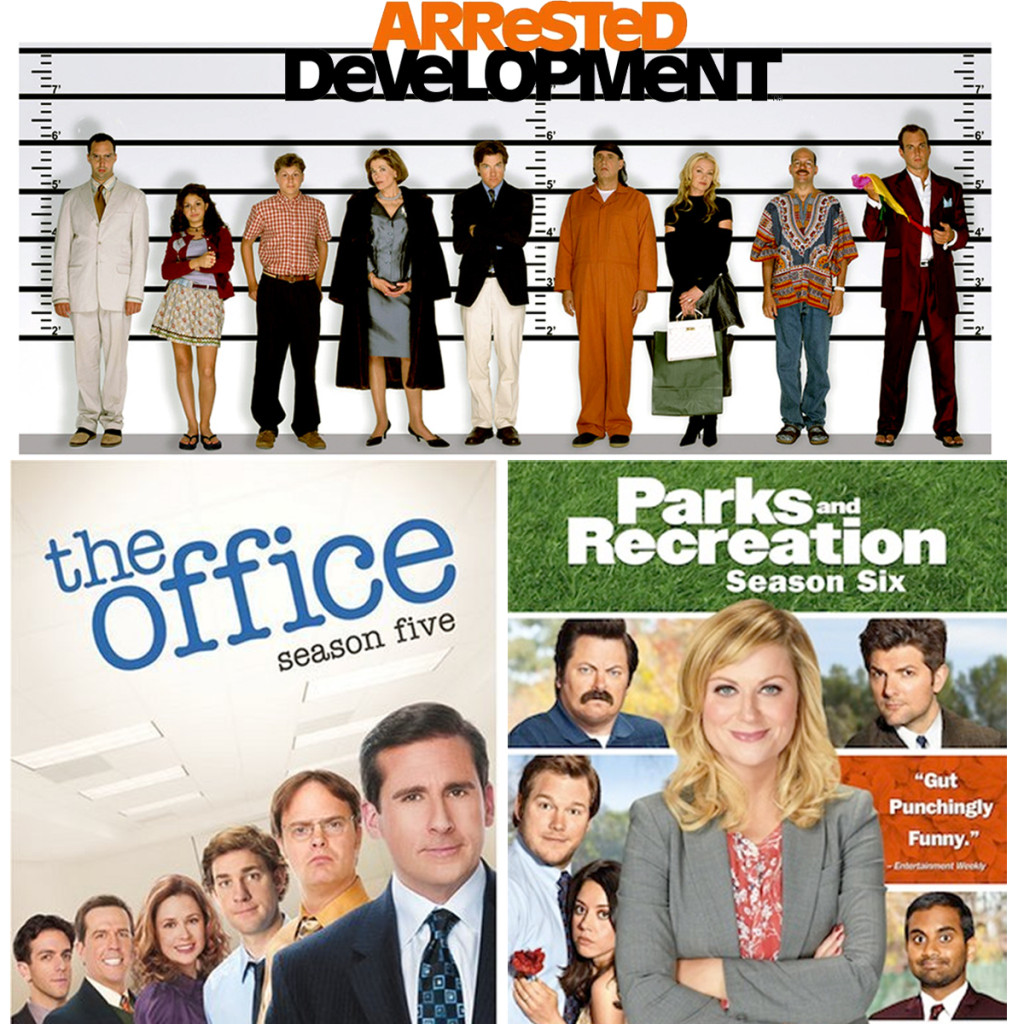 All three of these shows above I could watch over and over and still laugh.
Arrested Development is one of those shows that literally makes me laugh…like spit laugh…out loud.  It was also another show cancelled in it's prime.  I was guilty of never watching it when it was airing and wish I did so maybe it wasn't cancelled so early.  For those of you who are Arrested Development lovers, you'll love these clips 😀
The Office.    Don't need to say much more than that because I LOVE that show!  If you haven't seen it yet….you must not own a TV, haha, but for real if you haven't, start watching it now.  When Steve Carell left the show it started to go downhill for a bit, but the last season or so picked up and it ended beautifully.  My favorite was Jim and Dwight's antics.  This collection of clips starts with my favorite prank (fax from the future!!)  YES!!!  ("That's what she said.") 😀
Parks & Recreation is a show that just got funnier the more you watched and rewatching it is just as entertaining.  Our favorite is Ron.  His laugh kills me as well as his political views.  So for you Ron lovers out there-Enjoy!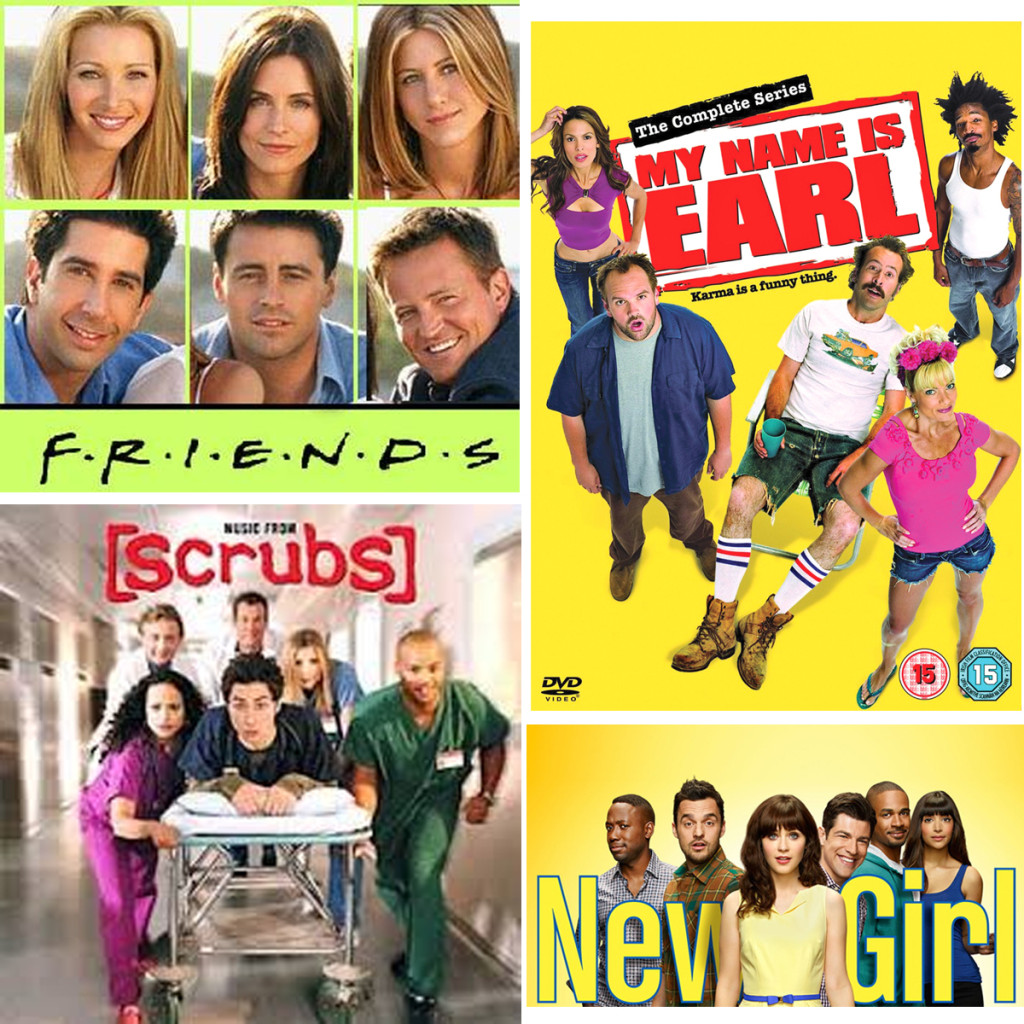 Nothing wrong with a classic and I don't get sick of rewatching Friends.  Don't think I need to go into details since I really do think everyone on the planet is familiar with this show, but can I just say, the Rachel was one of the best hair styles ever?!? Yep ever.  The layers, the volume-good stuff!
Scrubs came out when my husband and I were first married and it was one of our favorites to watch together.  The mix of comedy and medical story lines (really, why are hospitals so interesting?!?) is always good times.  I am actually rewatching it right now on Netflix and I forgot how much I love this show!  One thing we still say from that show is "So's your face."
My Name is Earl started out so strong.  The first two seasons were hysterical.  The lovable and not so bright Randy was my favorite.  One of my favorite episodes was the White Lie Christmas.  "Don't you judge me!"
I started New Girl after it had been out a few seasons, but have usually enjoyed it and Schmidt is always good for a laugh.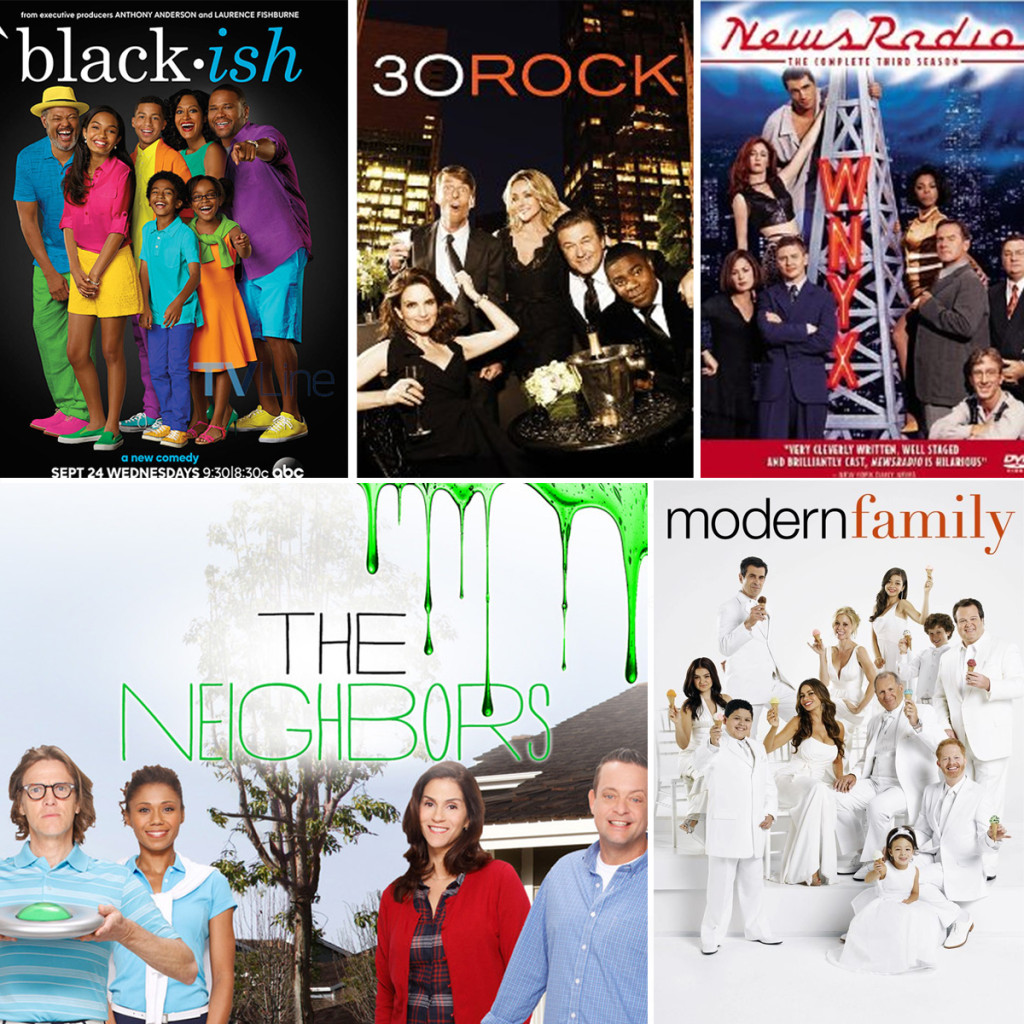 Blackish is a new show on ABC that is not only funny, but the dad loves Ben & Jerry's on the show.  Ok that's not the only reason I like it, but it is a great new one to watch!
30 Rock had really great moments and one thing I often say that not many people pick up on if they aren't familiar with Liz Lemon is "I want to go to  there."  So if I ever say that to you-it's from 30 Rock 😀
I get sad when I think about NewsRadio because of Phil Hartman.  His life was over too soon.  Such a funny show though!
If you never watched The Neighbors I blame you for it getting cancelled.  Such a funny show-kind of the opposite take of 3rd Rock from the Sun-an human family moves into a neighborhood that is all aliens in New Jersey.
I loved Modern Family in it's first couple of seasons, but have felt lately it is hit or miss.  It still has great moments though.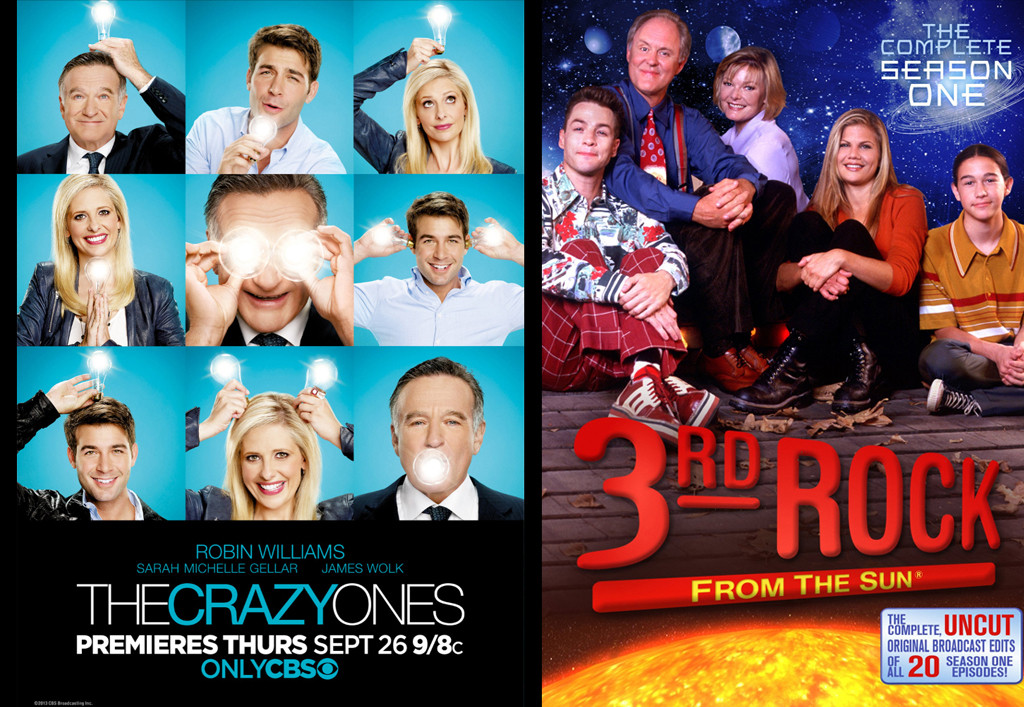 The Crazy Ones.  Did anyone see this one!?  It makes me so sad just thinking about it.  Robin Williams was by far one of the best comedic actors ever and his new show was so great.  You can see the pilot here.
3rd Rock from the Sun.  Man that show was good.  Also it is filled with great 90's flannel and Dr. Martens and that always makes me happy.  Dick was probably my favorite and John Lithgow is one of my favorite children's authors.  Did you know he writes children's books (and some even come with a CD of him reading/singing them!).   My kids (and me!) love the Marsupial Sue series.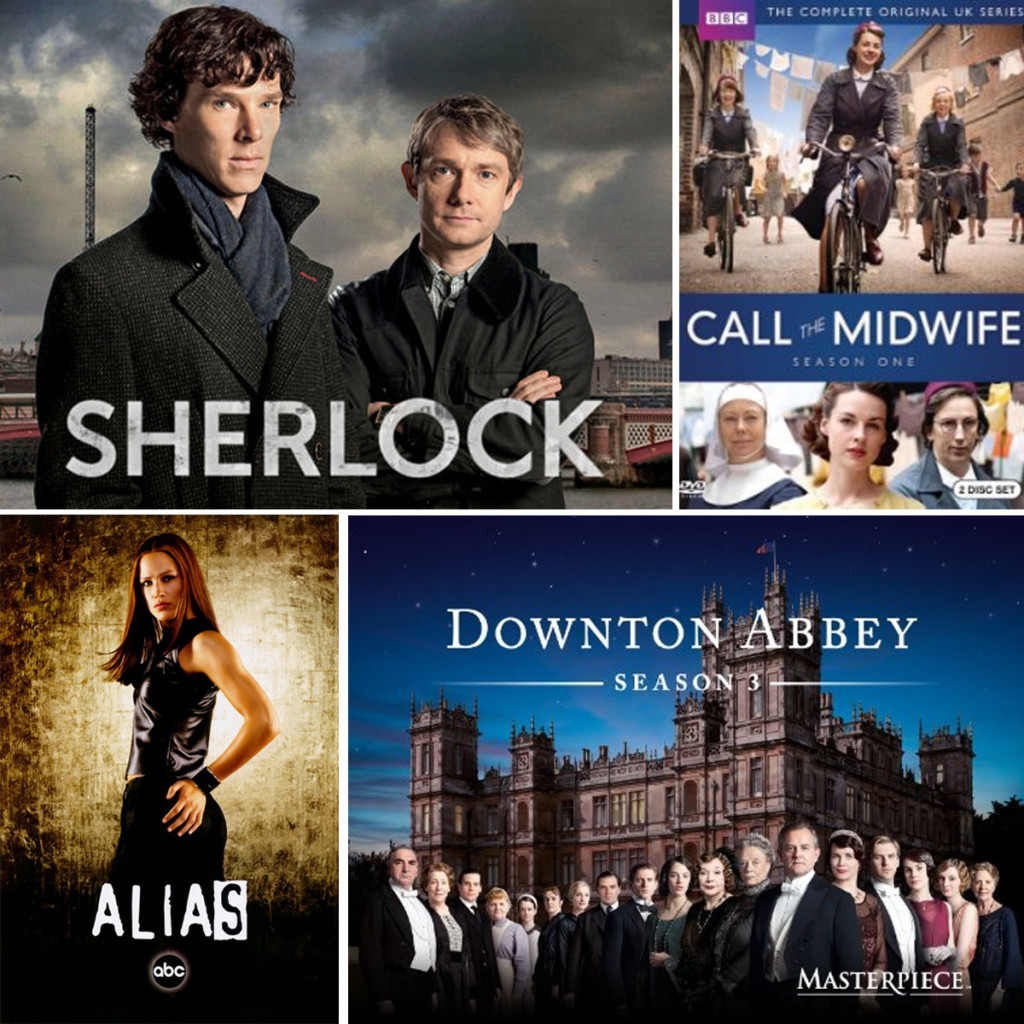 Now onto some dramas.  Lately those British have put out some excellent TV including Sherlock, Call the Midwife and Downton Abbey.  Great acting, intriguing story lines and I love the dresses and locations in Downton Abbey.
When we were first married Alias came out and we ended up watching a whole season in a weekend.  Now for two college kids and no Netflix, that was no small feat.  The first three seasons of Alias are excellent.  Then just stop watching it and be happy you enjoyed those seasons.  In Season 4 J.J Abrams had started the series LOST and kind of lost the direction and passion for Alias-at least that is what I think.  Jennifer Garner is a great actress and Michael Vartan and Bradley Cooper aren't so bad themselves.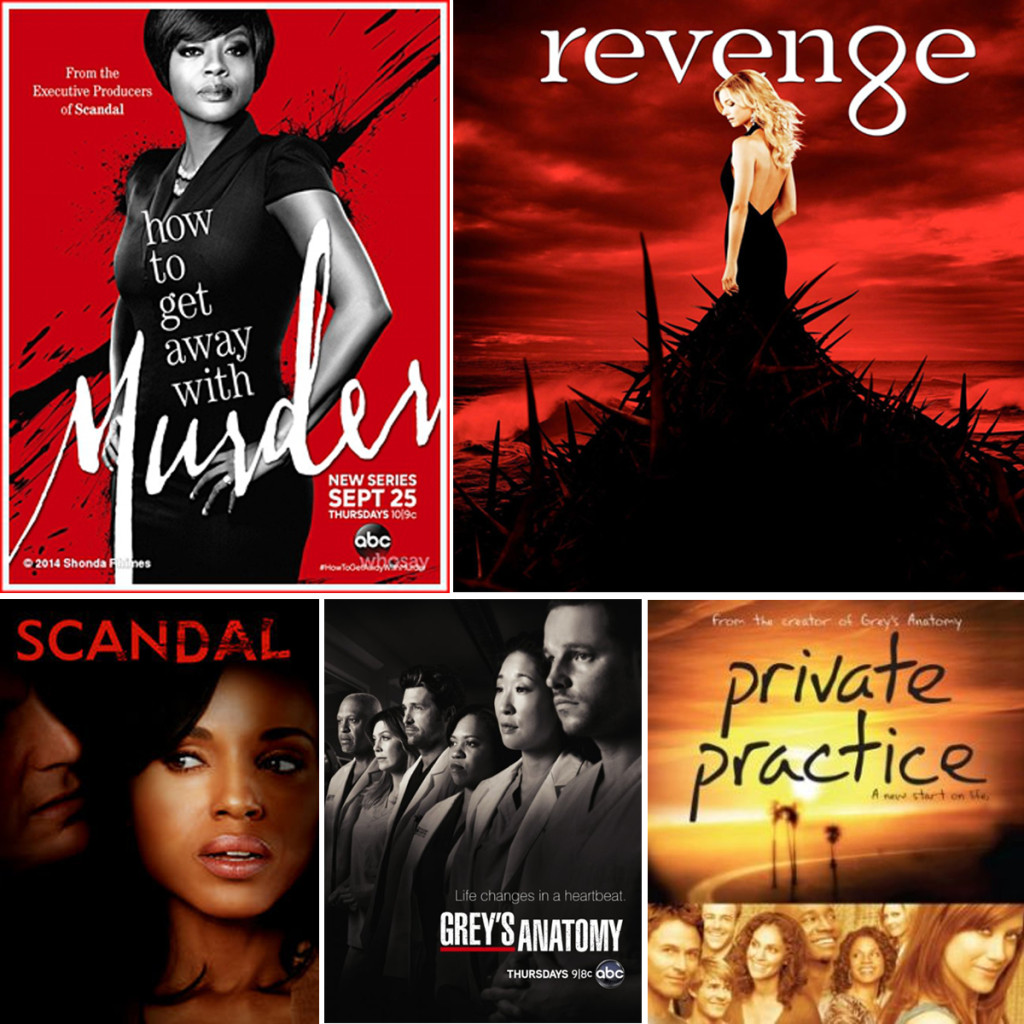 Ok 4 out of 5 of these shows were created by Shondra Rhimes and are some of the best dramas I've watched.  Her first, Grey's Anatomy I just started watching last year and may have watched 9 seasons in a month.  Then came Private Practice, which was a spin off of Grey's and was a great show too, but got cancelled early.  Next came Scandal and then it was quickly followed by How to Get Away With Murder.  Some seasons/episodes are better than others, but overall, really entertaining shows.
Revenge.  Oh how I LOVED Revenge when it first came out.  The first season is really, really great and it slowly goes downhill from there, but I have a lot of nostalgia with that show because I was watching it with my friend Tara and Lauren when she was pregnant with Alayna at my house.  Those couple of weeks we had Revenge marathons bring back some great memories, so Revenge will always have a special place in my heart.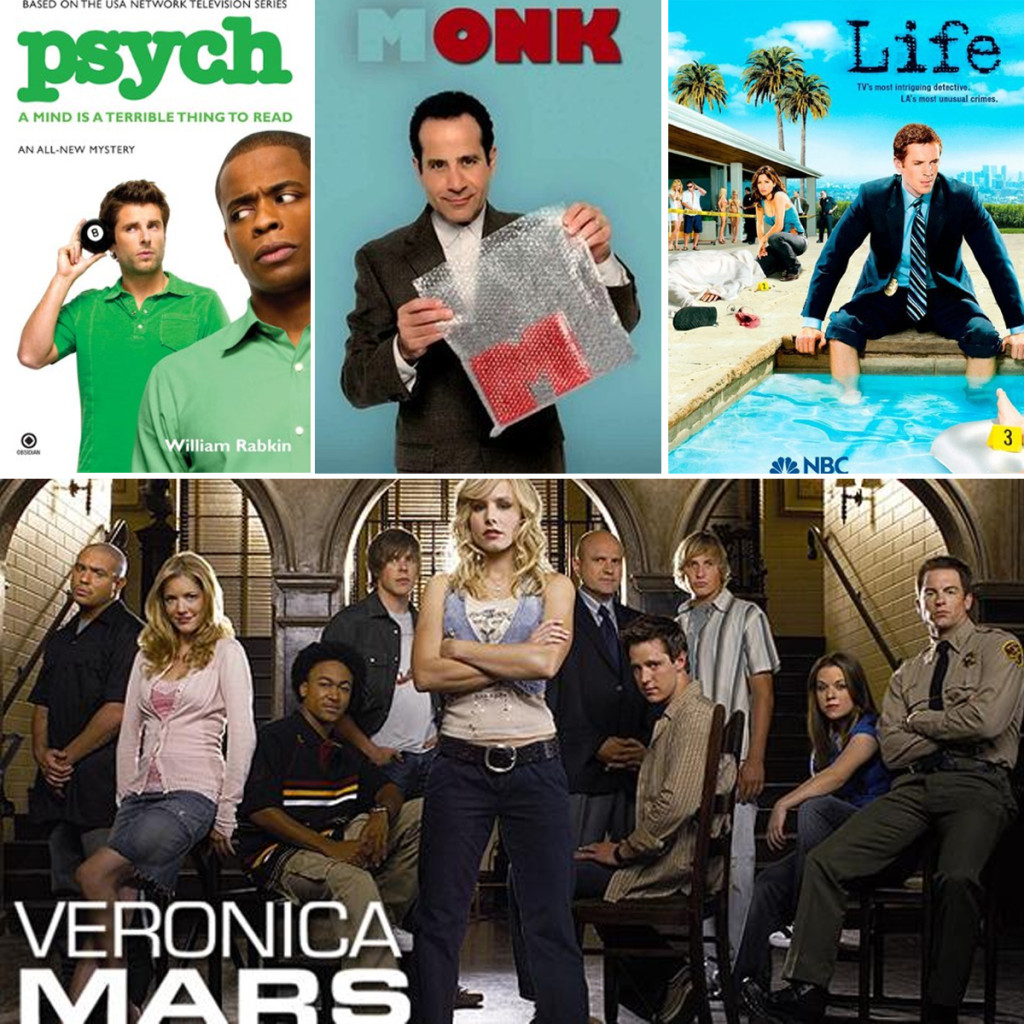 Now for my favorite murder/detective dramas.  I grew up watching Agatha Christie with my mom and Clue is one of my favorite games ever, so I love shows like these.  If you need a good one, check out Psych, Monk, Life or Veronica Mars.  I think my favorite was Veronica Mars-it's like a detective show meets Beverly Hills 90210 and who doesn't love that?!?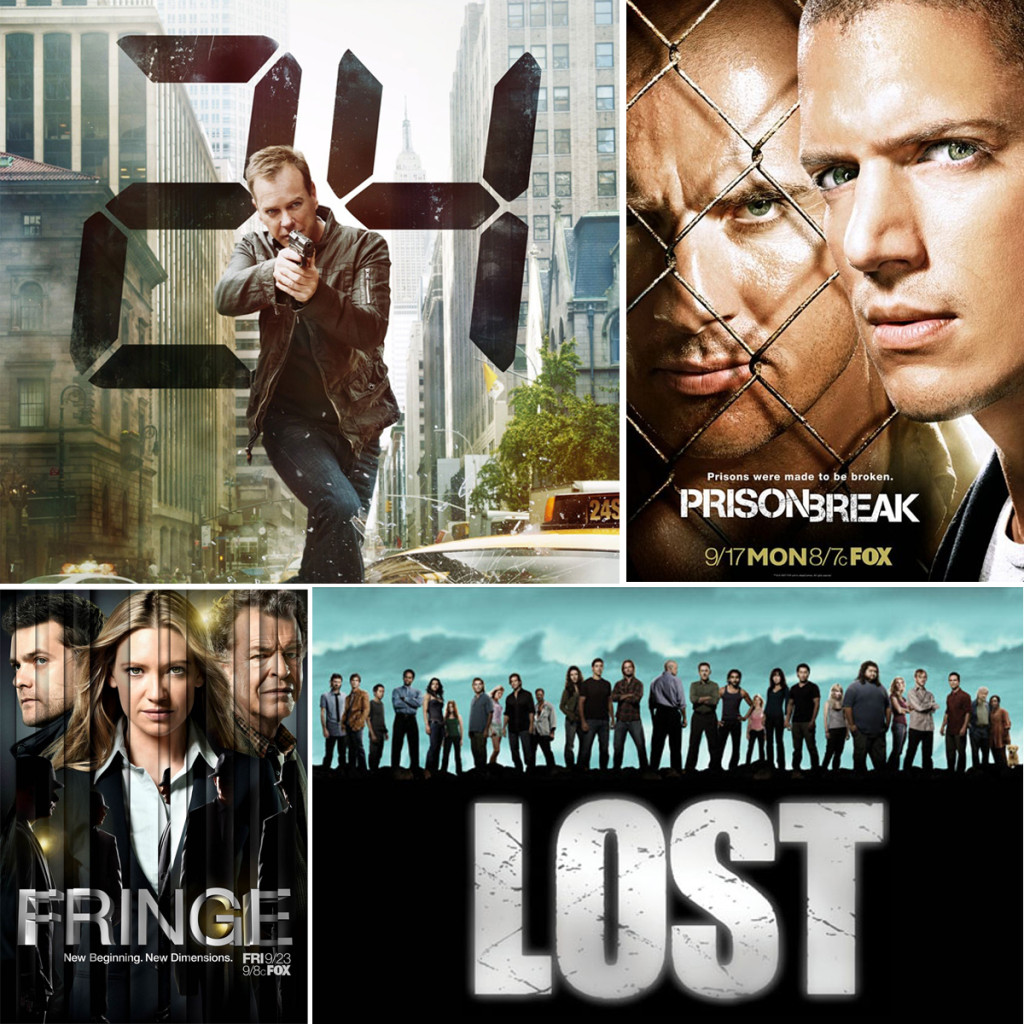 These shows above I may have lost MANY of nights sleep from, especially 24 and Prison Break.  Those had a way to suck you in and end in a way that you HAD to watch the next episode…and the next one…and the next one 😀  Fringe reminded me a lot of my X-Files days and LOST, well I can't say that each season was great, but Sawyer kept me watching all the way to the painful end.  I was hoping that J.J. Abrams learned his lesson in ending shows badly as he did with Alias, but alas, he did not.
As I am writing this I realize that I forgot Parenthood.  It took me a season or so to get into it, but it was entertaining and kept me watching.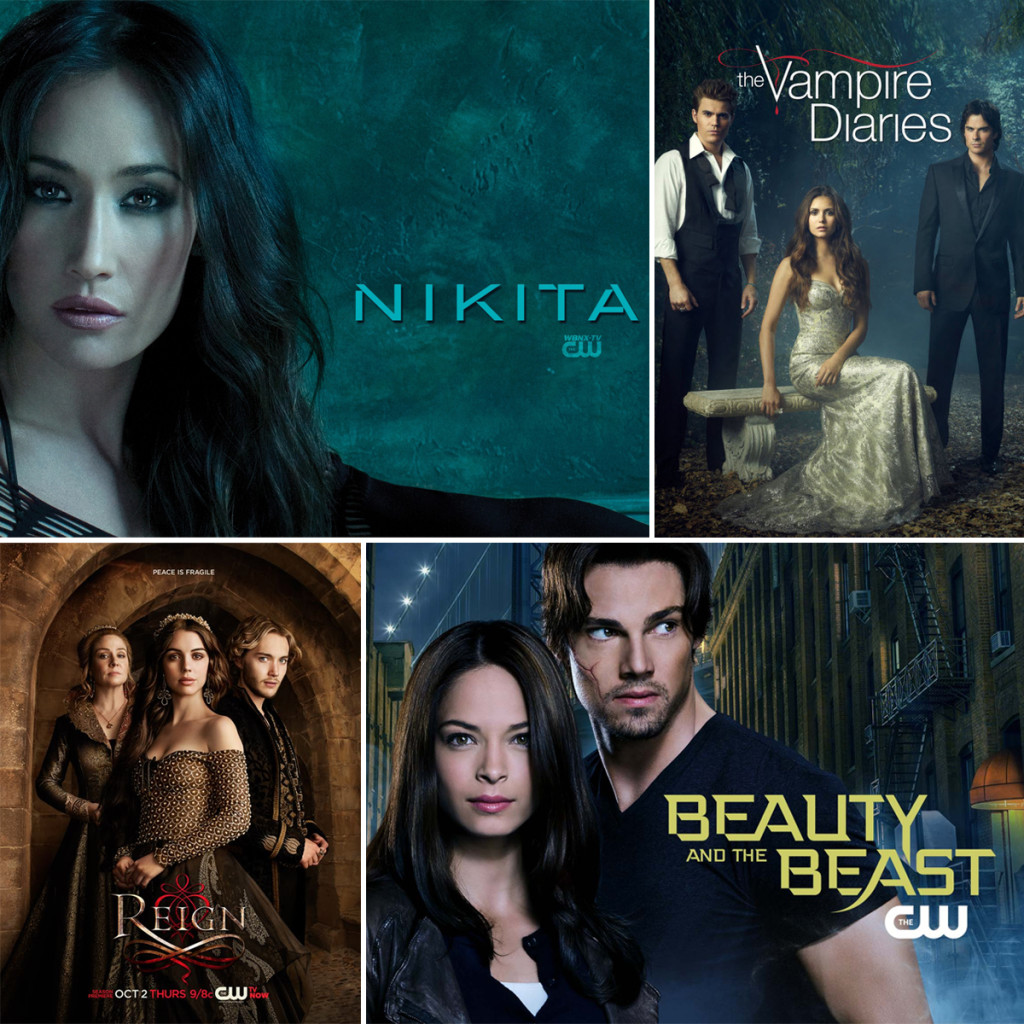 In the last few years the CW has put out some pretty great shows.  Nikita reminded me a lot of Alias, although I stopped watching I think around season 2.  The Vampire Diaries started out REALLY great and well…I kept watching for Damon.  So those of you that watch know why I won't be watching anymore ;D  Reign is another great drama that has probably the best costume design I've seen.  The dresses are AMAZING!!!  Beauty and the Beast is one I also stopped watching but enjoyed it while I did!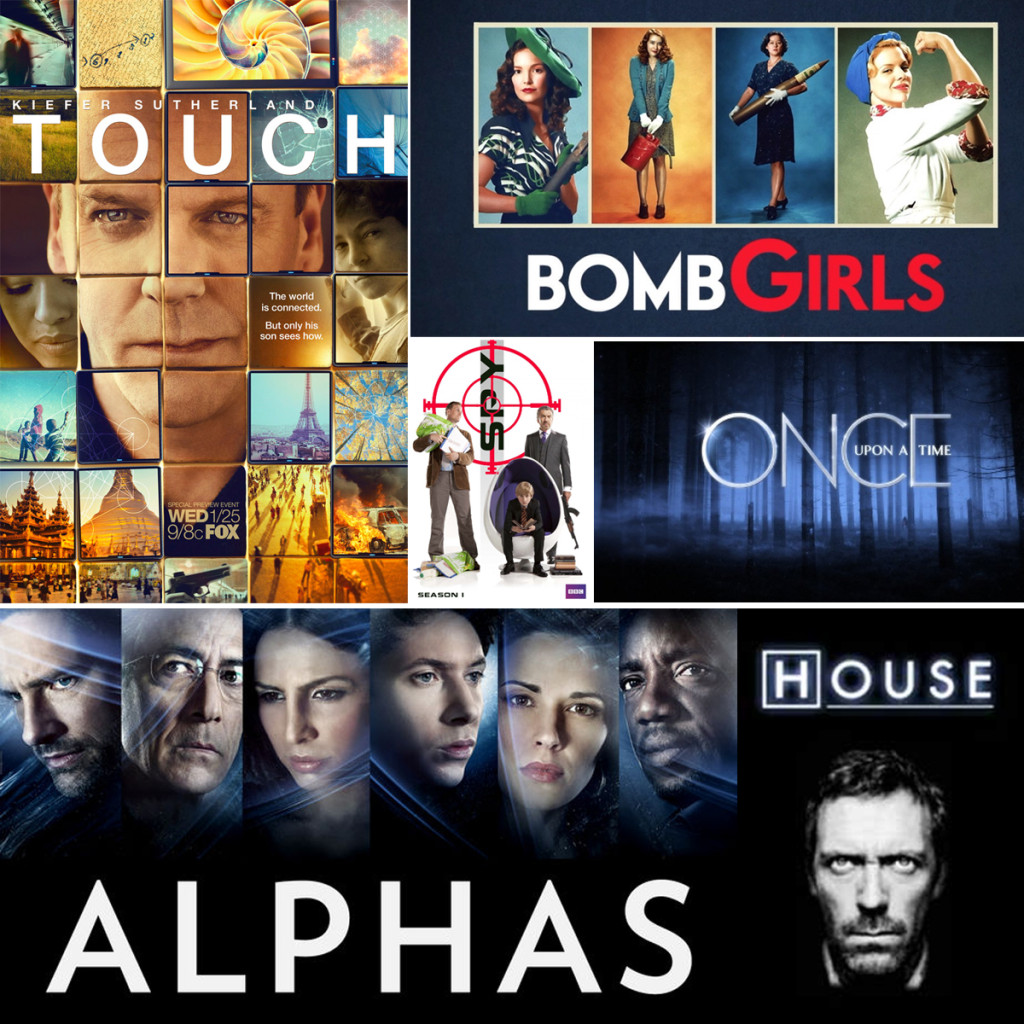 Ok, ok whoever didn't watch Touch and got it cancelled…..for real people should have watched this one.  It was GREAT.  And I'm really sad they didn't get to tie it all together.  Great one season if you need a good show to watch.
SPY.  Ok go find this on Hulu and watch it.  It's a British comedy that is really smart and funny and has the dad from My Family in it (although I don't love him as much in this show).  The actor that plays the son is REALLY great and I always think what an AMAZING Draco Malfoy he would have been.  One can wish.
Bomb Girls is a Canadian drama based in World War II.  If you like Downton Abbey or Call the Midwife, you'll like this one too.
Once Upon a Time made it on my list because I really did enjoy the first season.  The acting can get pretty cheesy, but it was a fun watch….at first. I stopped when they got to Neverland so I have no idea what has happened since.
Alphas.  Another great show that got cancelled to early.  It's on Netflix and you'll love it.
House.  My germaphobia and fear of weird diseases has gotten worse since this show, but it was entertaining.  I think I finished it….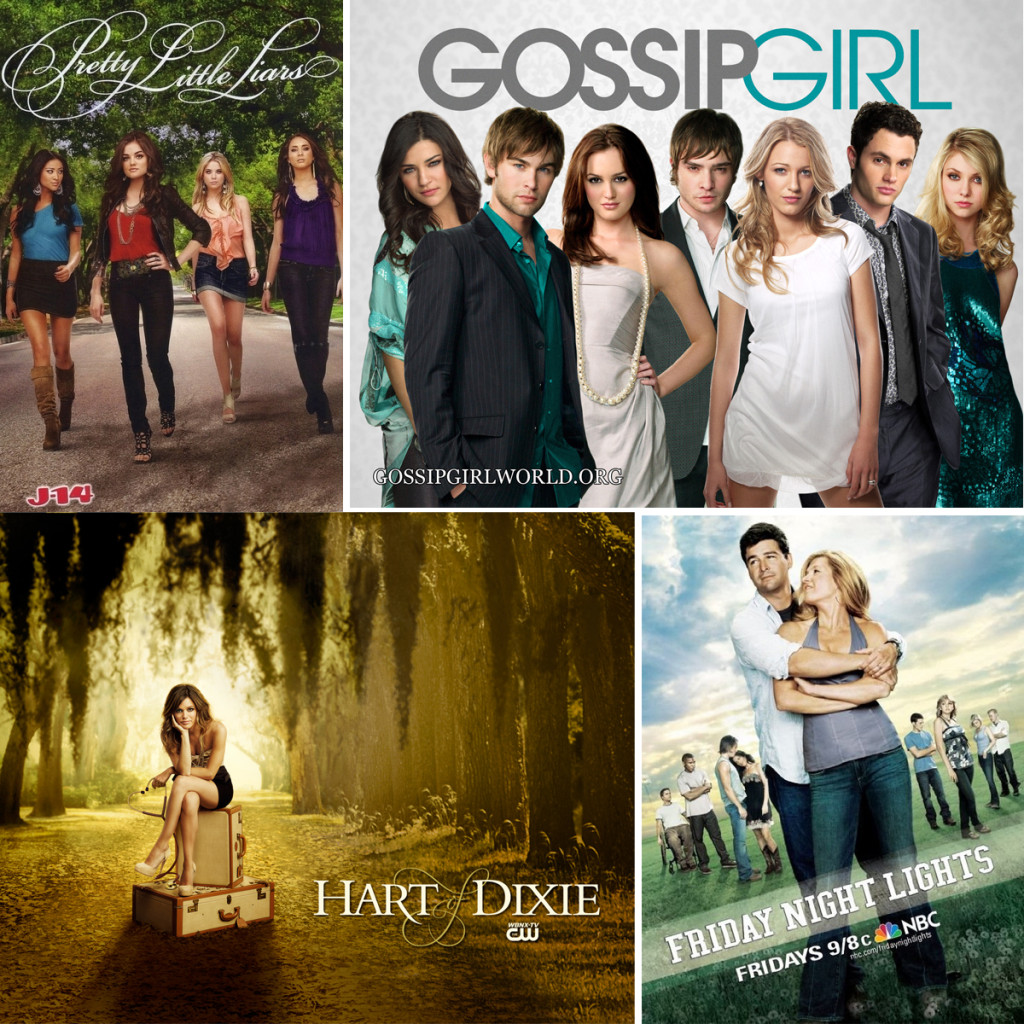 I end with these four shows that if you need to feel like a teenager again, these are some good choices.  Pretty Little Liars started out really good…I lost interest about season 5 I think so I don't know who A is and honestly I stopped watching it, but watch the first few seasons if you need some good teenage drama.  Gossip Girl.  The clothing and hair in this show are amazing.  I loved watching it just for that.  The story lines were good…at first.  I never saw the last season and just watched the last episode to find out who Gossip Girl was.  Spoiler alert-it didn't make sense and I'm glad I missed the last season, but it was entertaining for most of the season.  Friday Night Lights was another one that started out strong and I honestly don't remember if they ended it or if it was cancelled.  Hart of Dixie is great.  I didn't expect much from it and found myself totally in love with this show.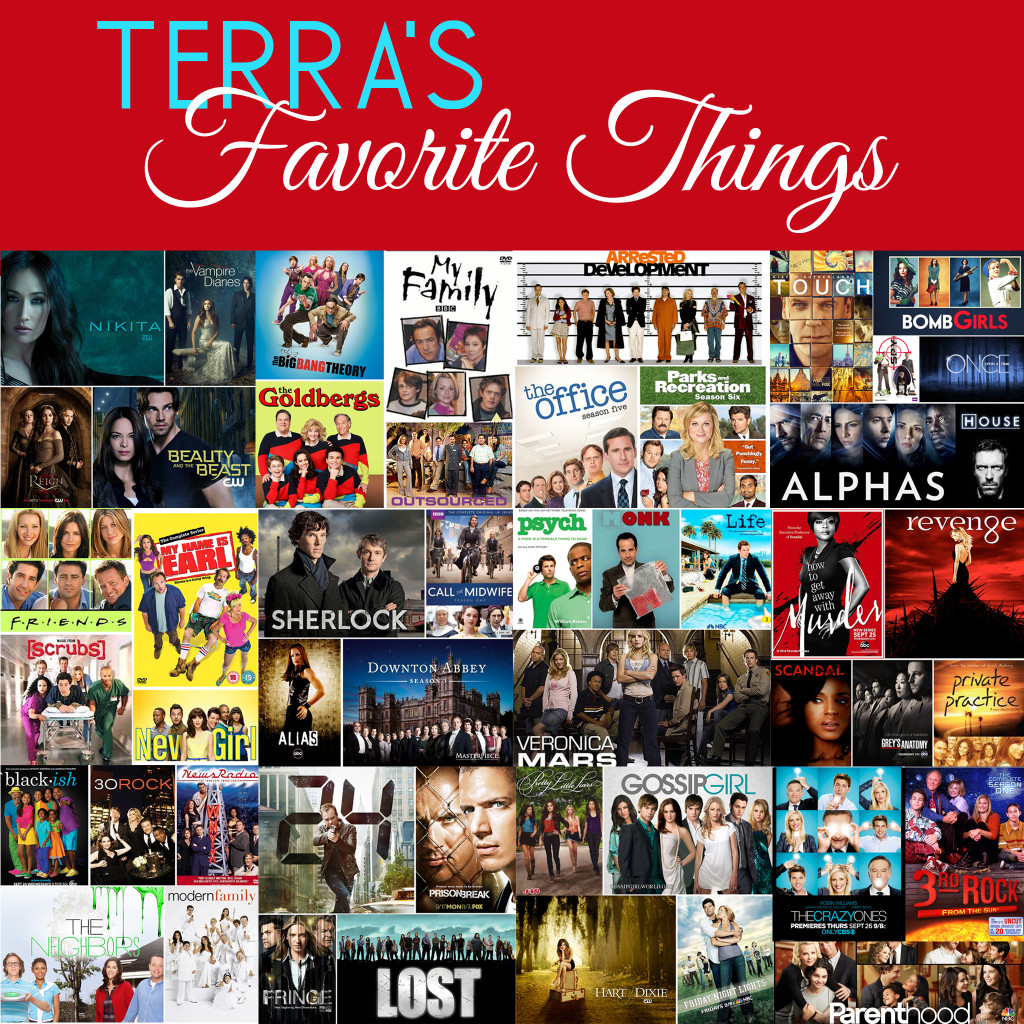 I did tell you I have watched a lot of TV.  I may need to do a separate post just about my favorite documentaries, because I love those too!  So now that you know my favorite shows….what are yours, because CLEARLY I am running out of shows to watch!