Meet Jacob.  The inspiration for my personal project, "Light Through the Spectrum".  I've known Jacob for a few years and I always love hearing about the things that he loves because he is always so passionate about it.  We were finally able to get together after weeks of both of our families taking turns being sick.  Last week we had it scheduled so Jacob started making puzzles for me-so by the time we were able to get together today, he had a LOT of them put together!  There are puzzles done under the puzzles you see on the floor.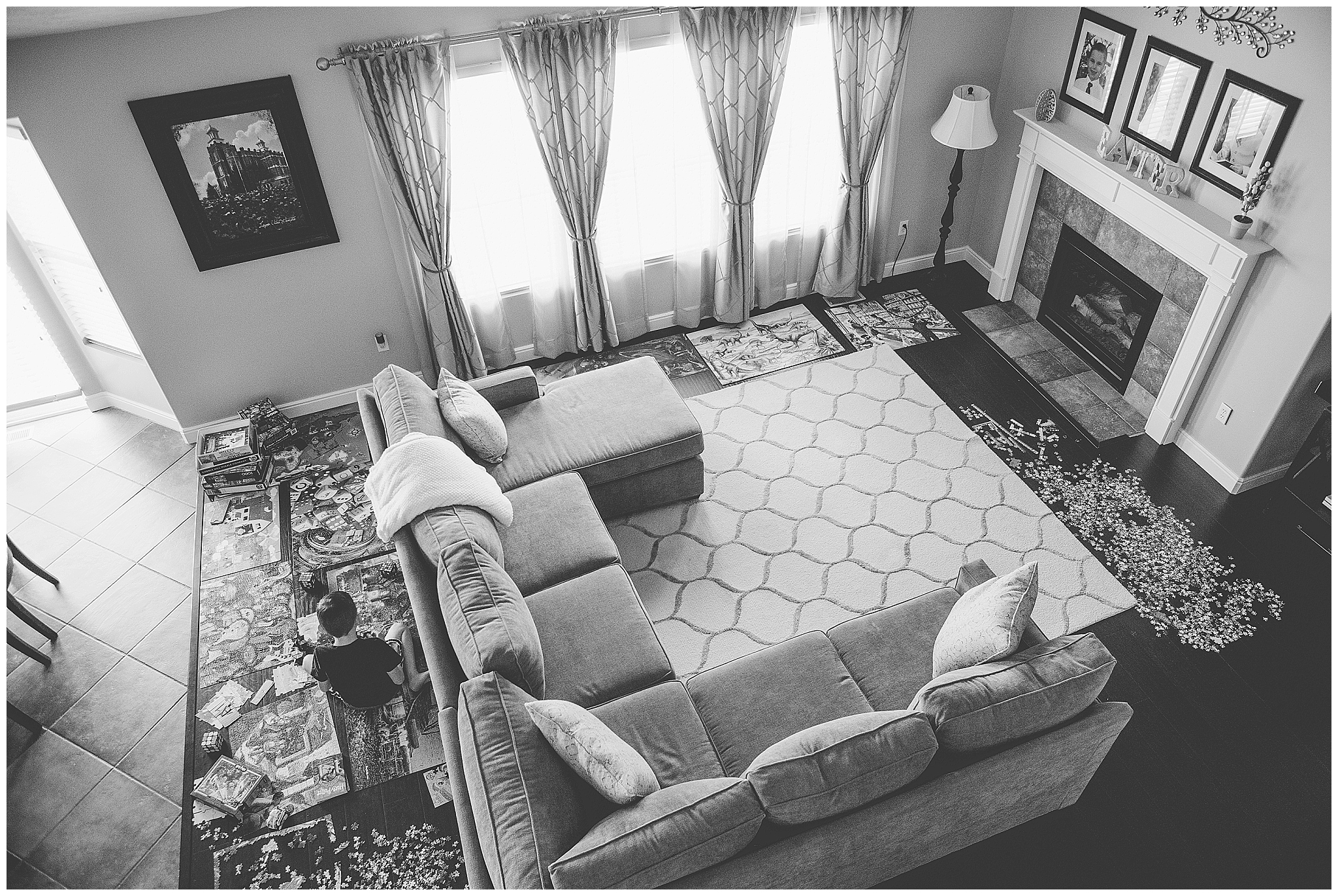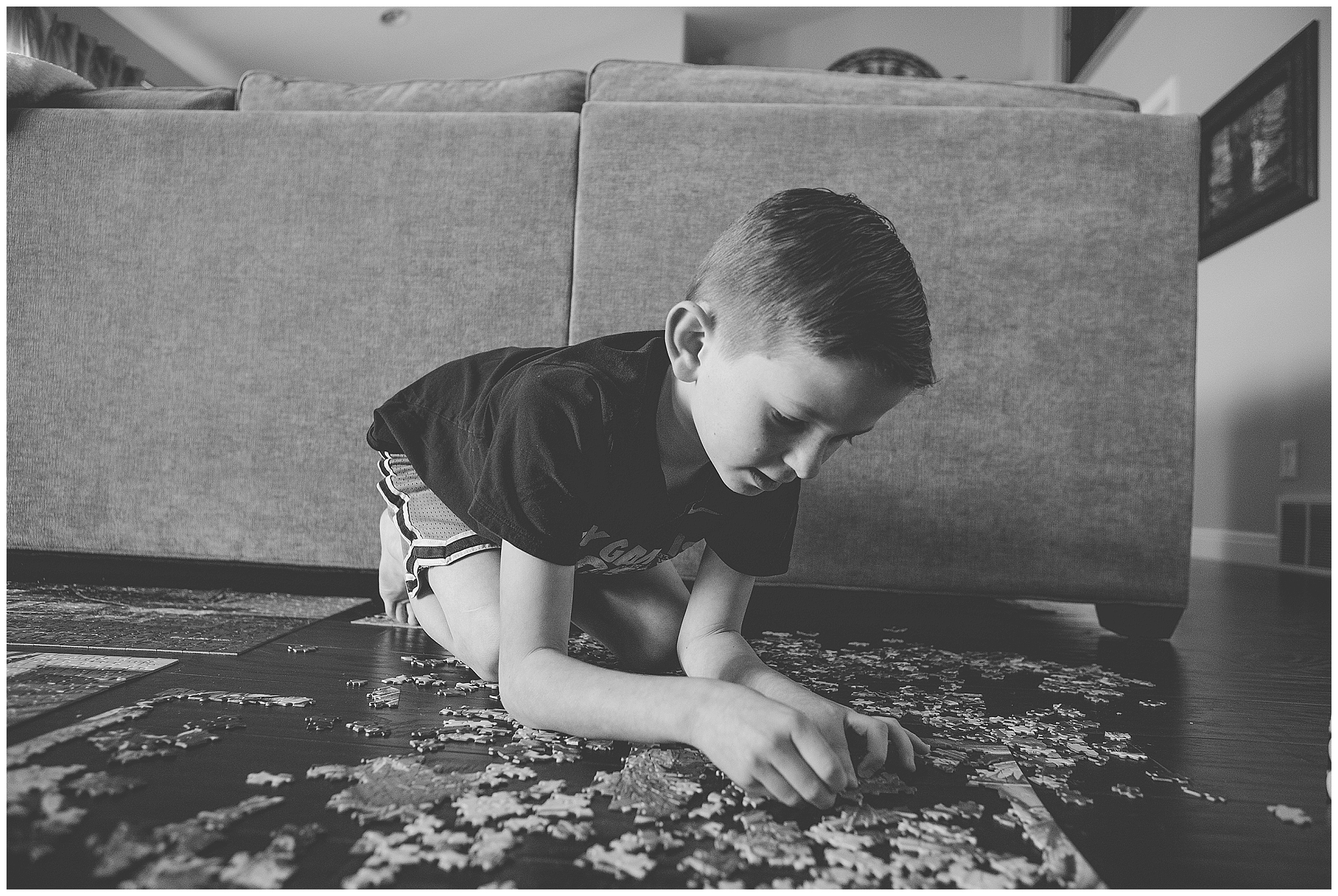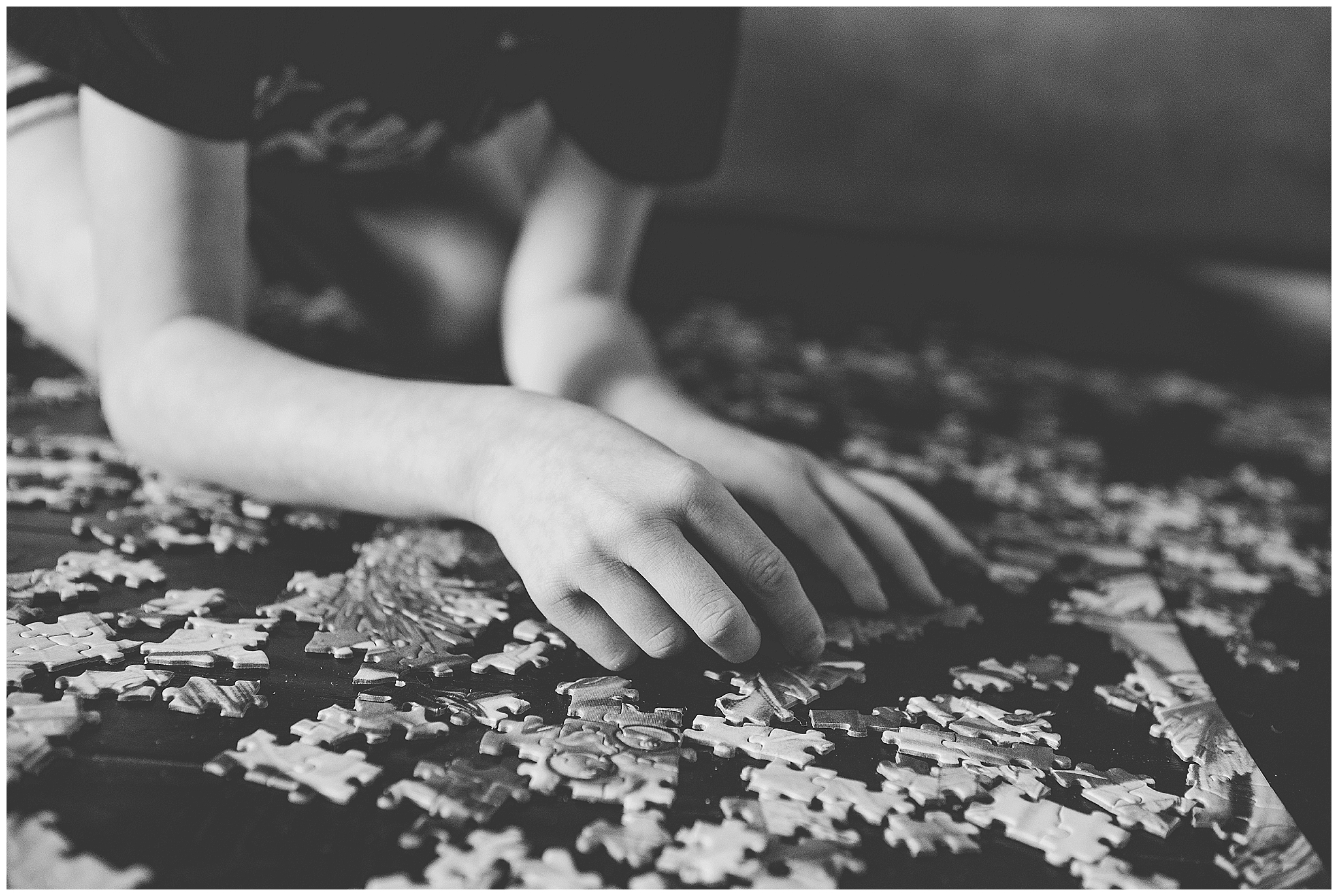 He was switching between working on a Harry Potter puzzle and playing with the Rubik cube. I asked him what his favorite colors were and he told me purple and green.  Well those are my favorite colors too!  No wonder we get along so well!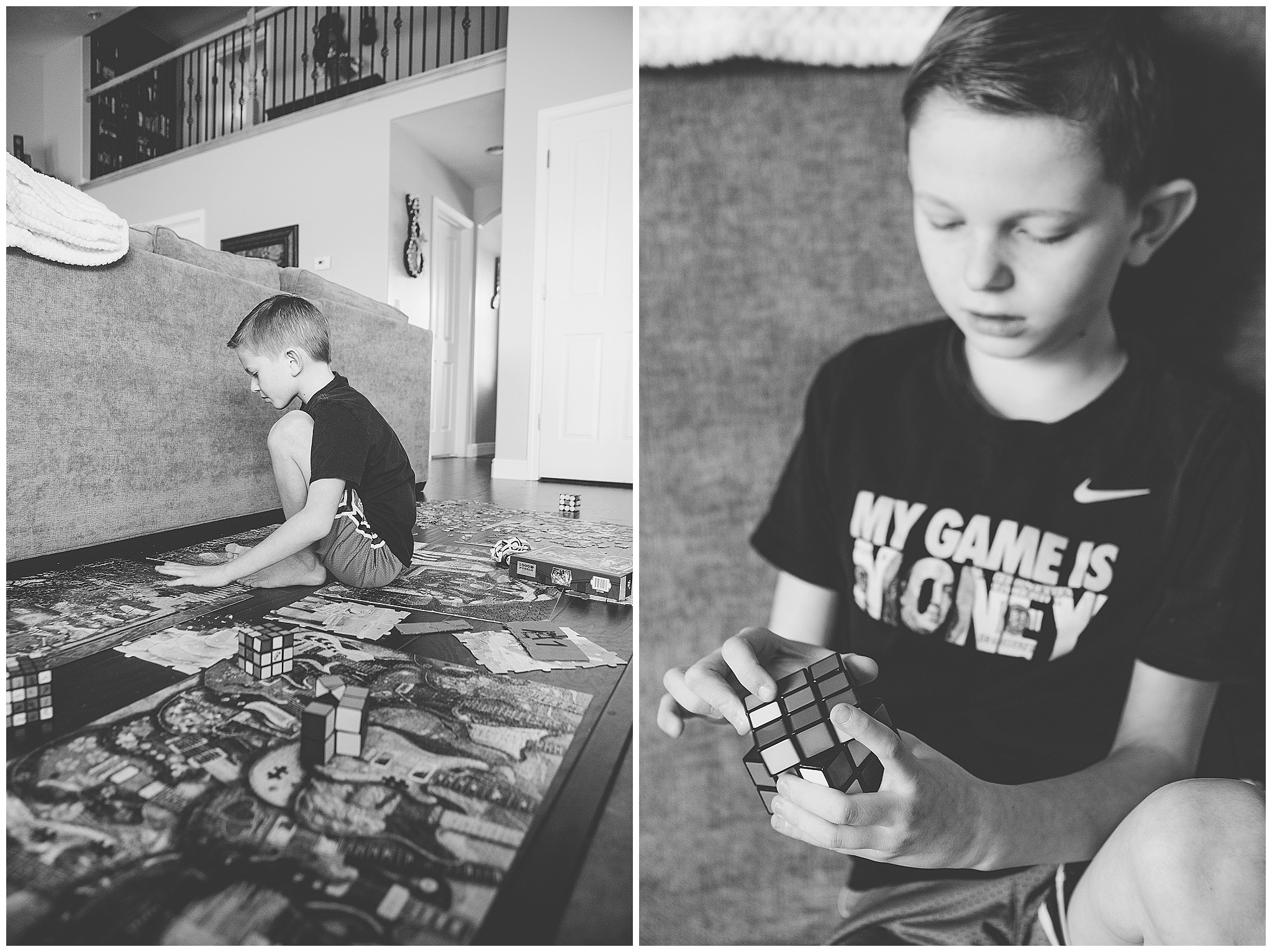 His mom and sister didn't know I was getting them in the shots.  It was fun watching them  watch Jacob-everyone adores him.  At one point someone told him he was so cute and he said, "I know."  Love that confidence.  I think we should all think that about ourselves!!!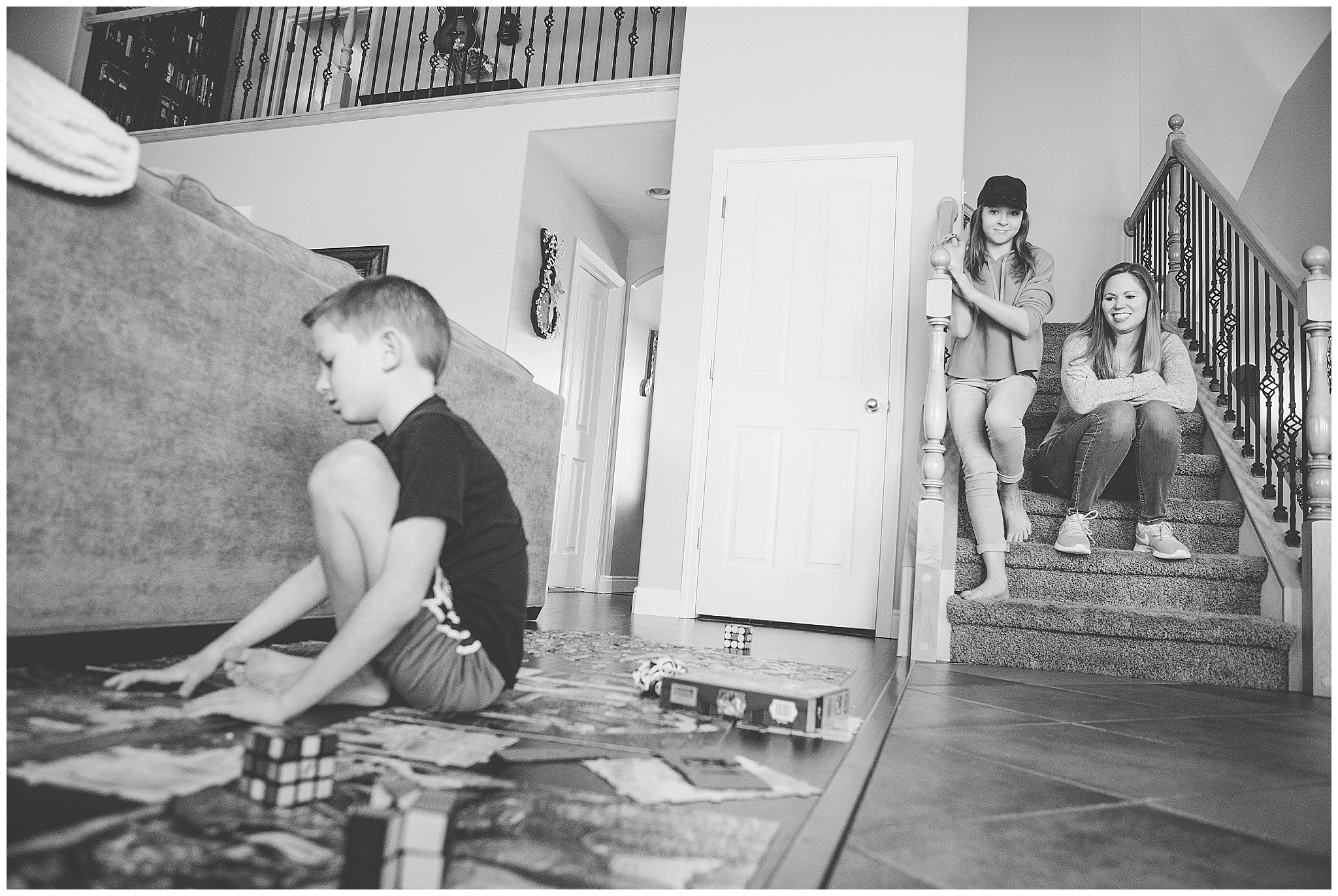 He took off the colors on one Rubik cube and replaced it with colored circle stickers. Love that he wanted to make his own.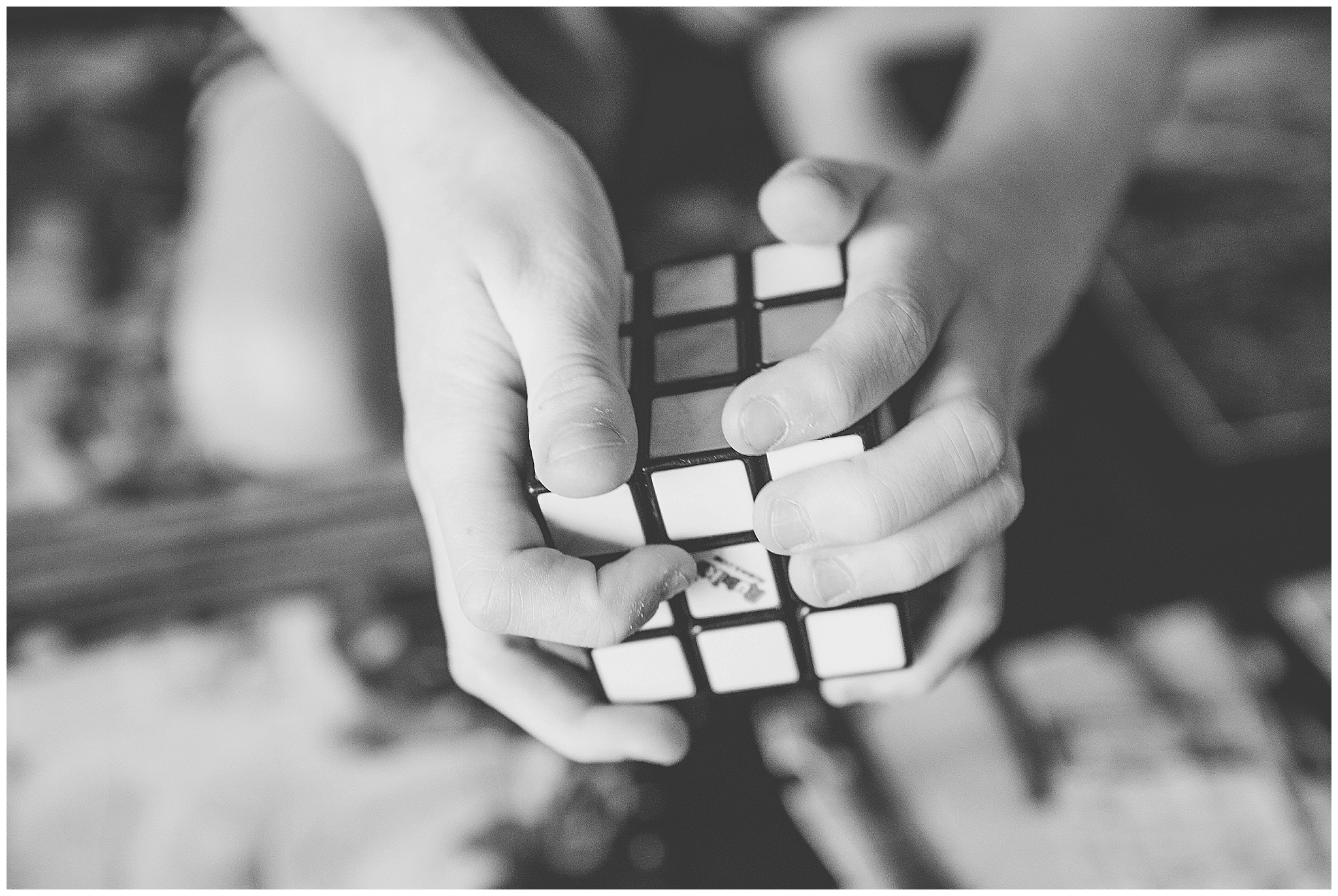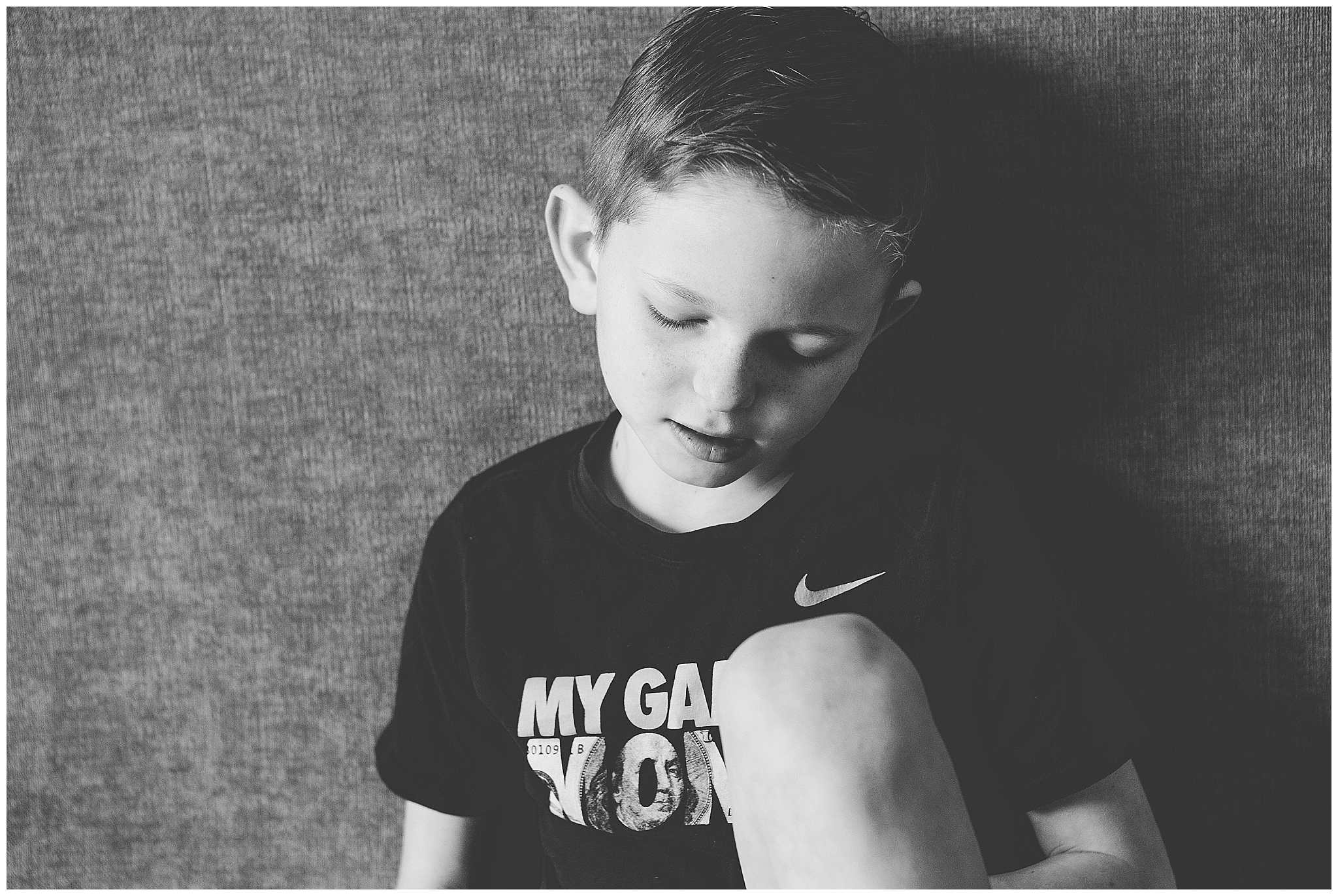 I asked him about his favorite books and he went and got Harry Potter-seriously this boy knows the way to my heart!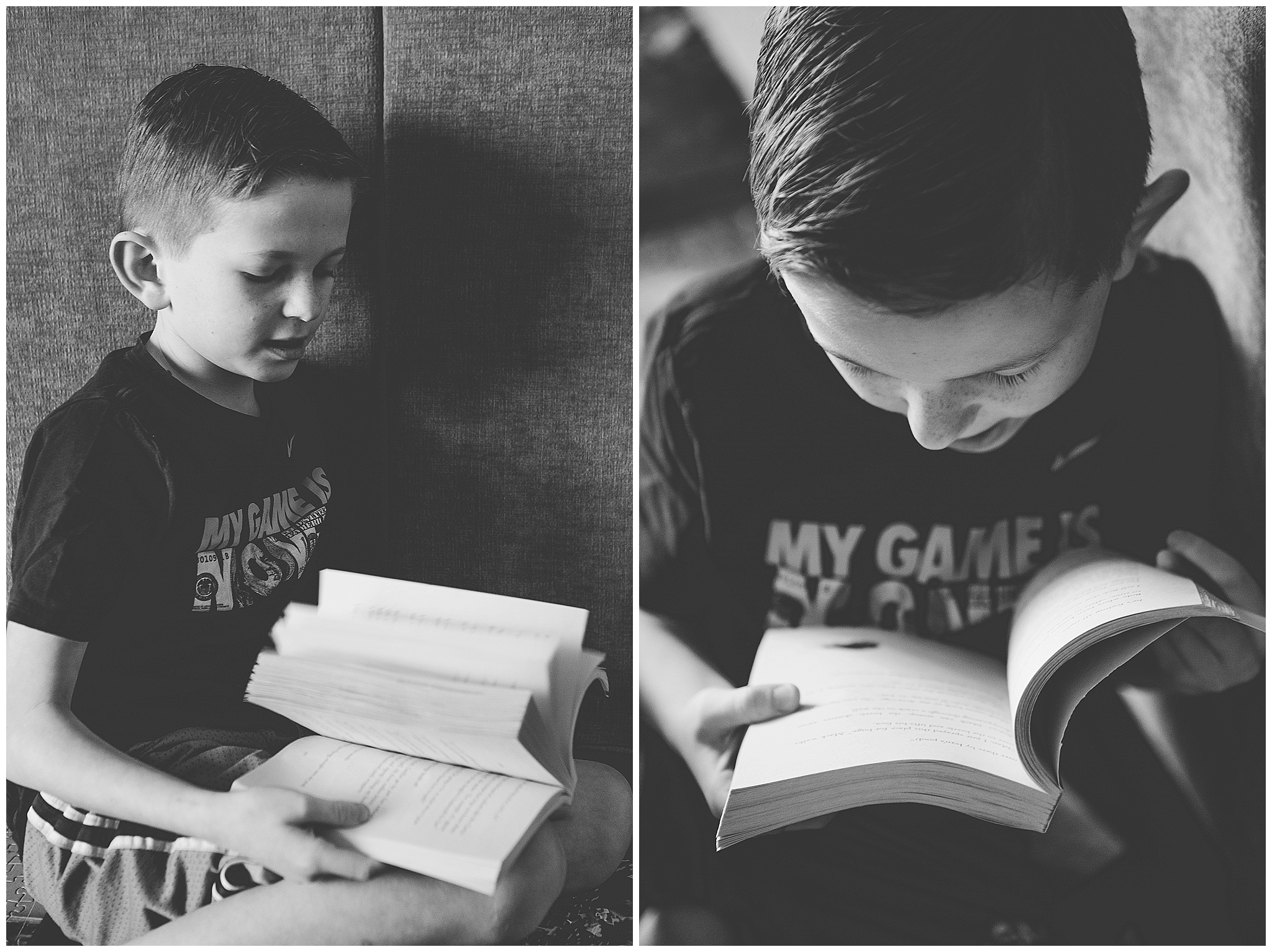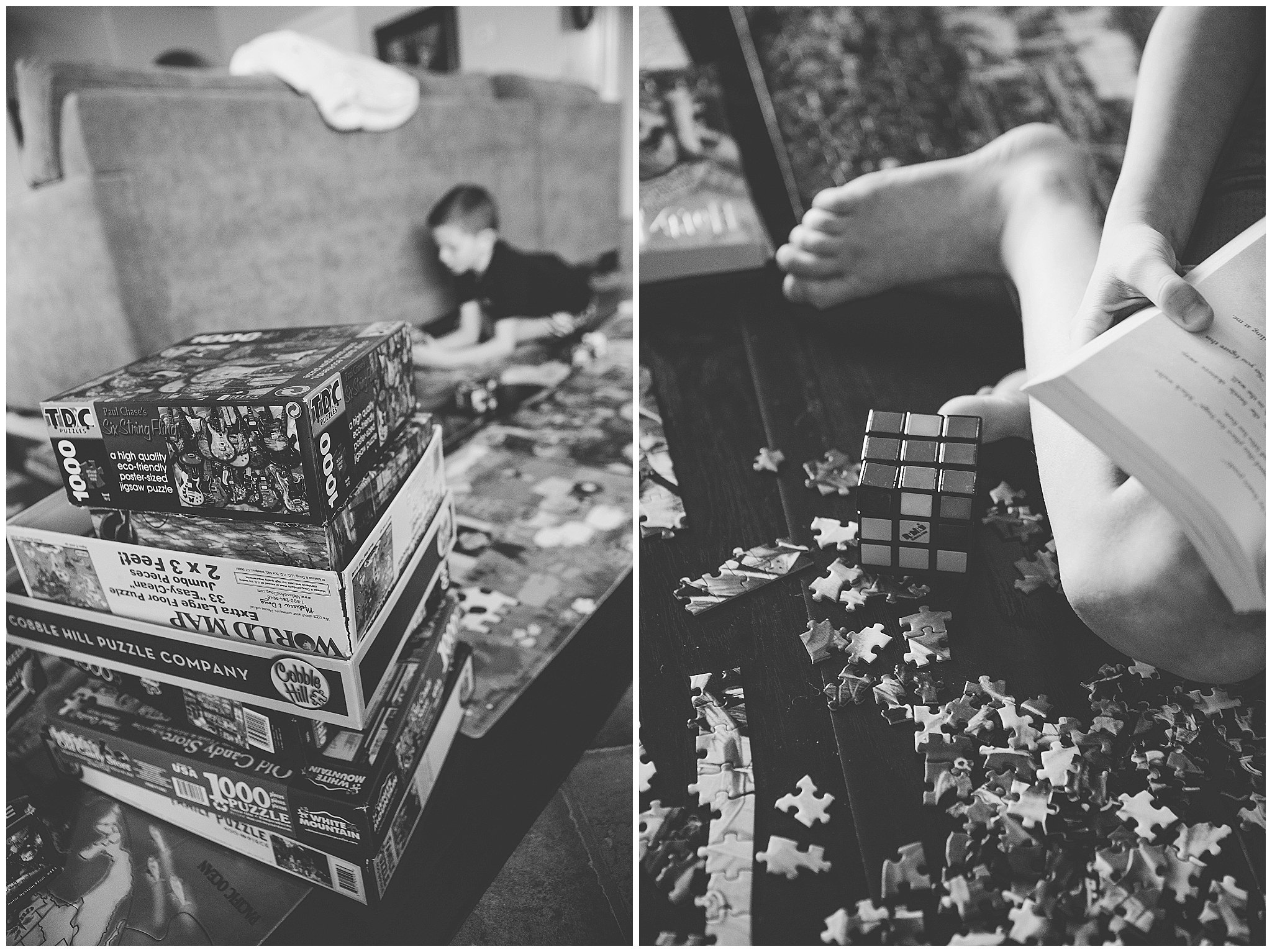 He would read a paragraph or so for me and I loved the way he pronounced the characters names.  It reminded me of before the movies came out my sister and I fighting over how to say them properly.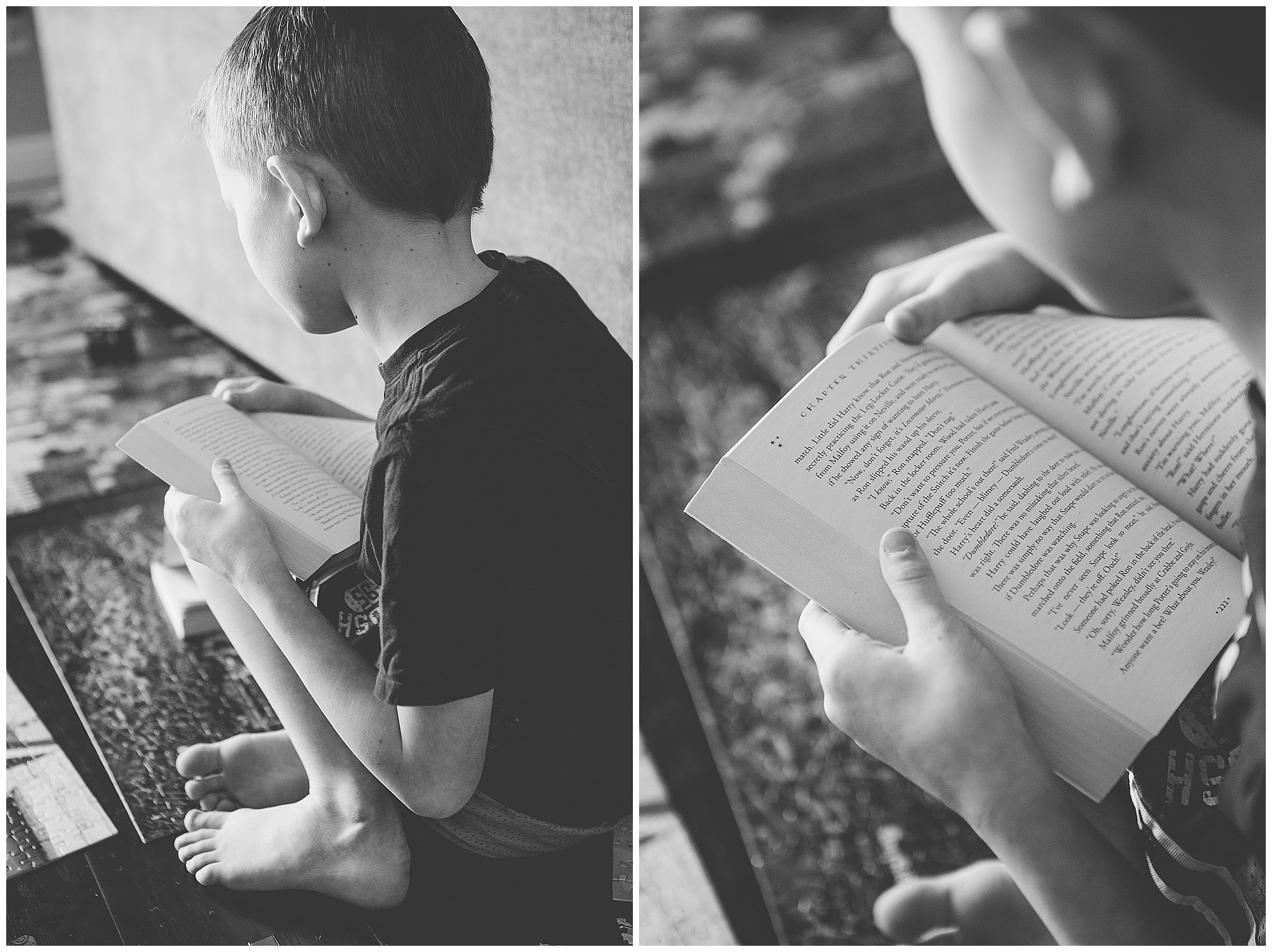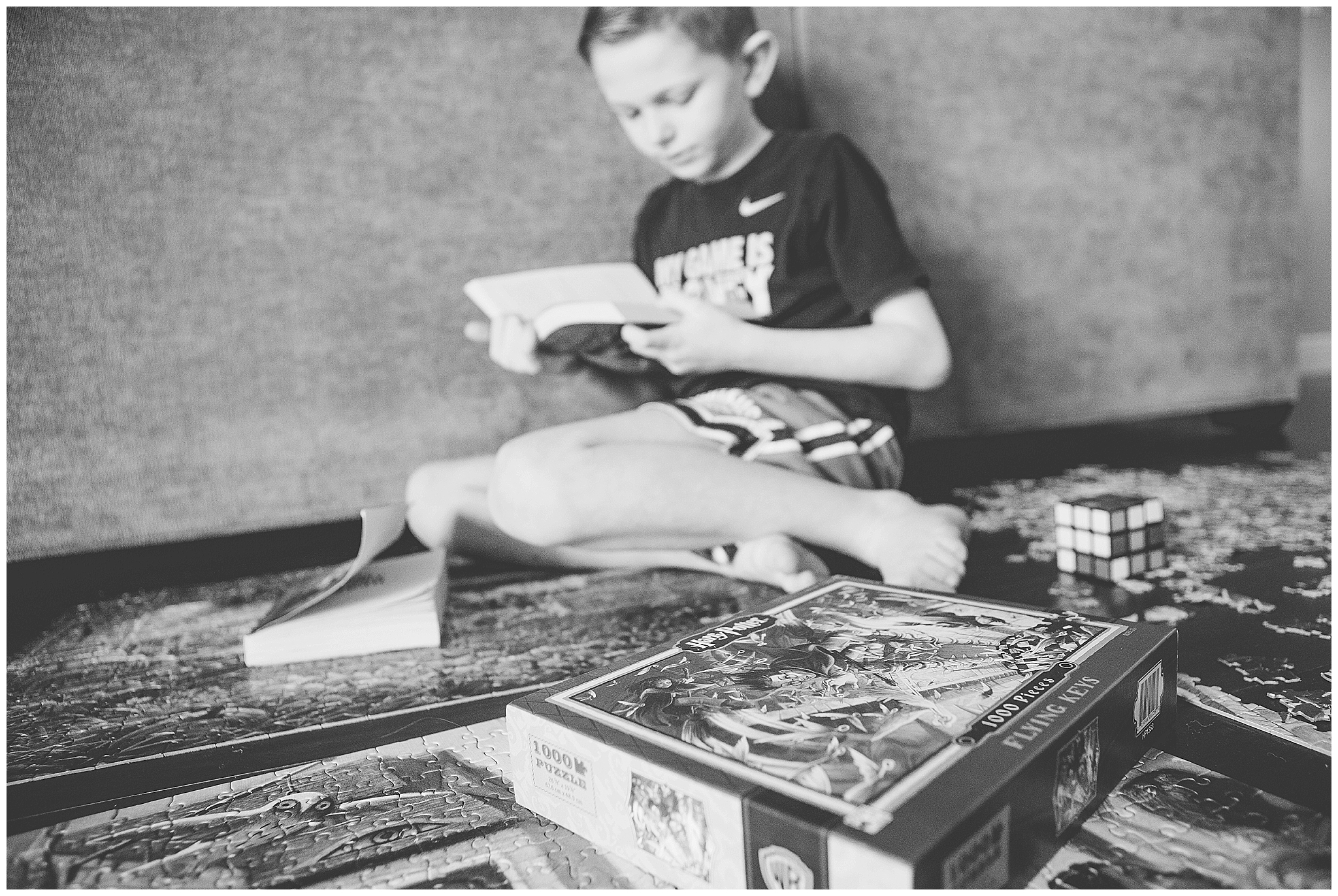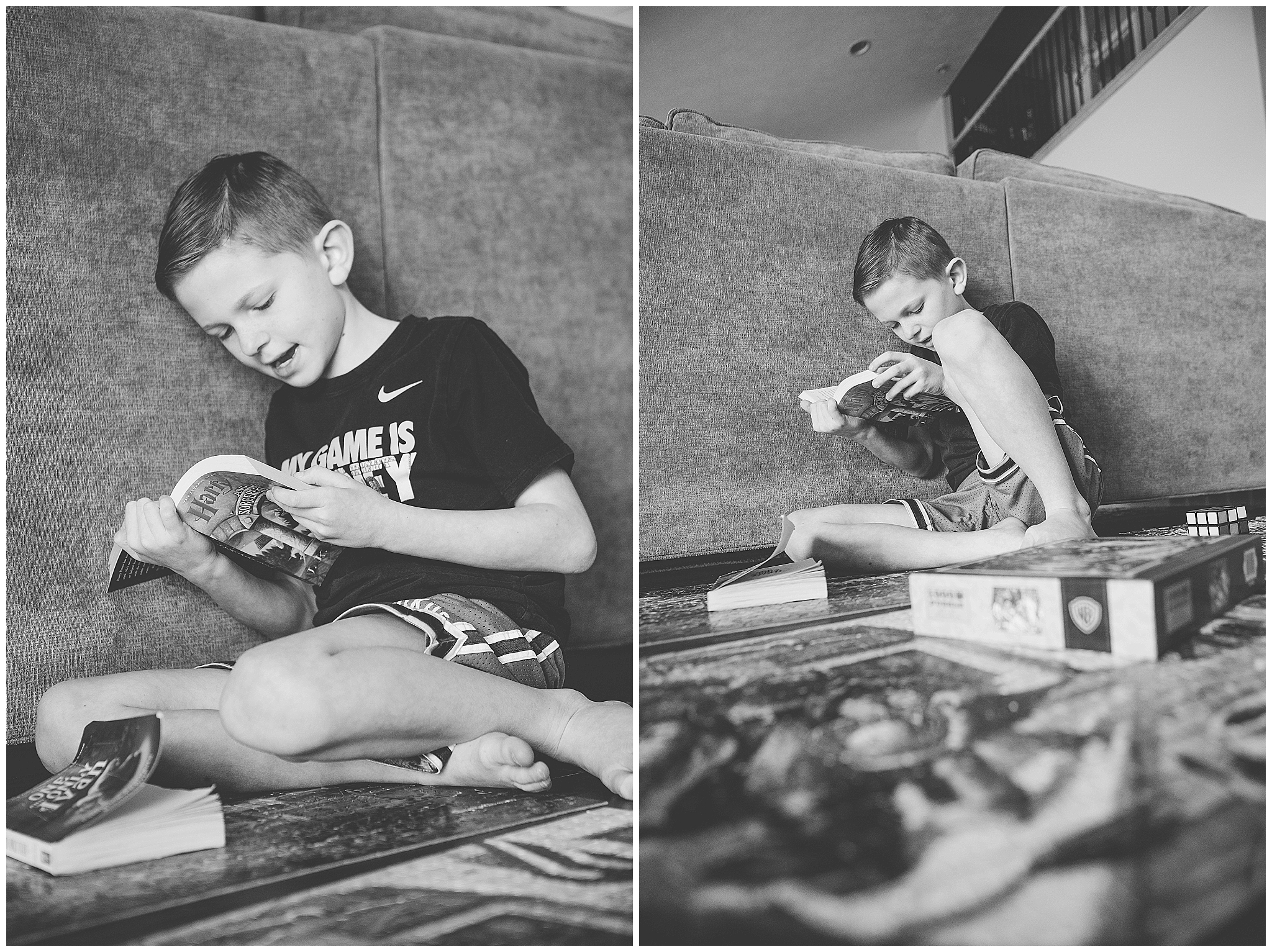 He wanted to show me his awesome somersaults too.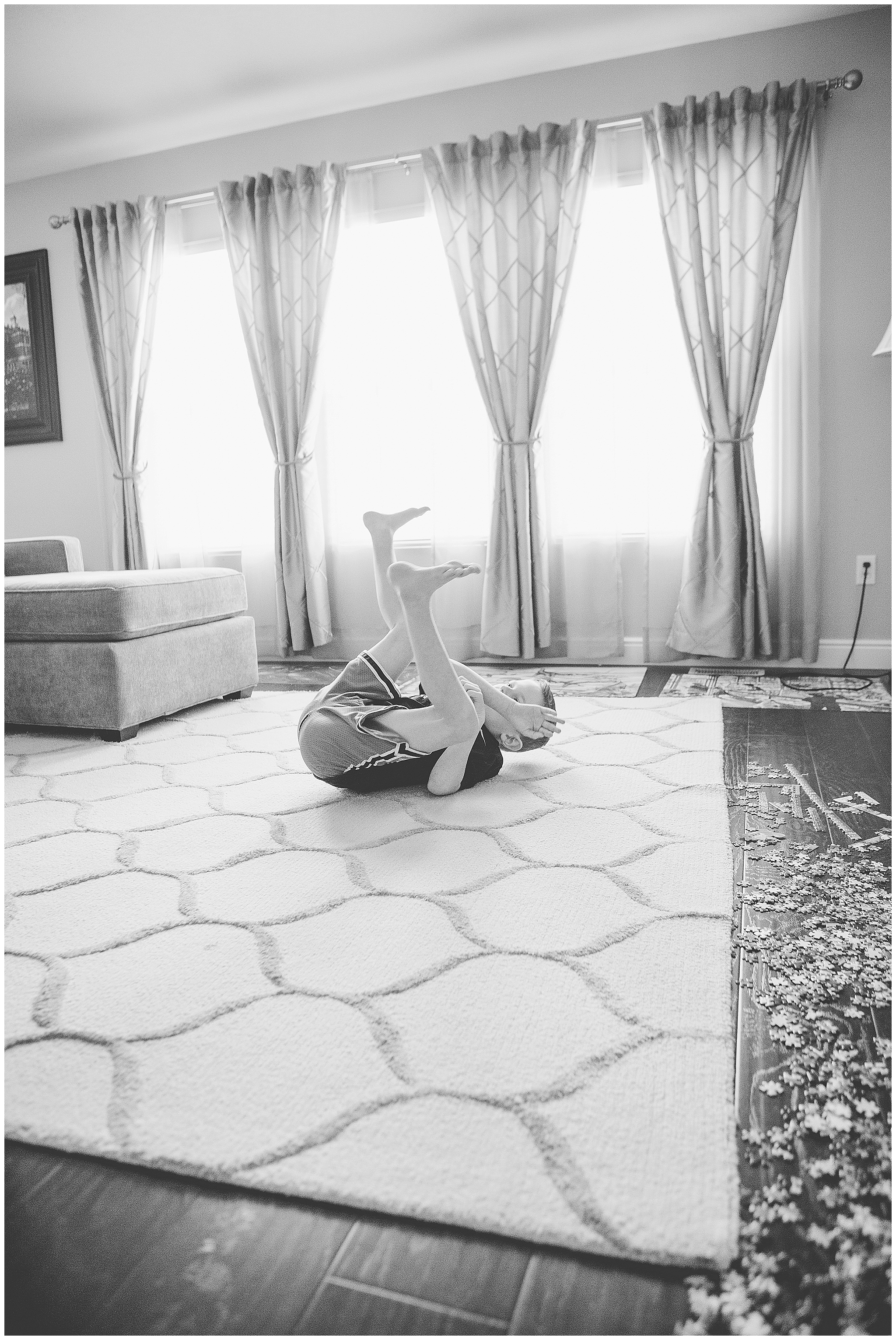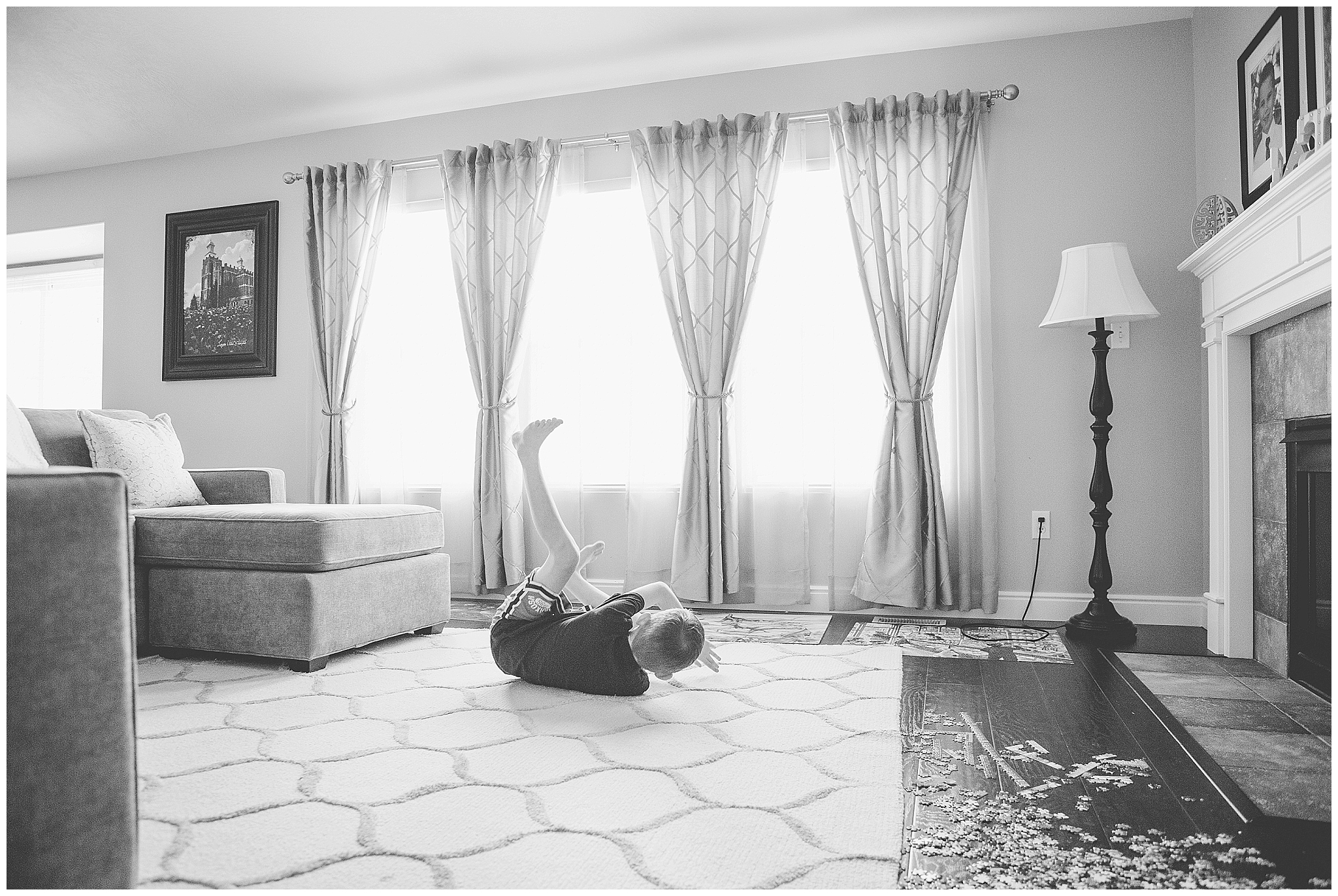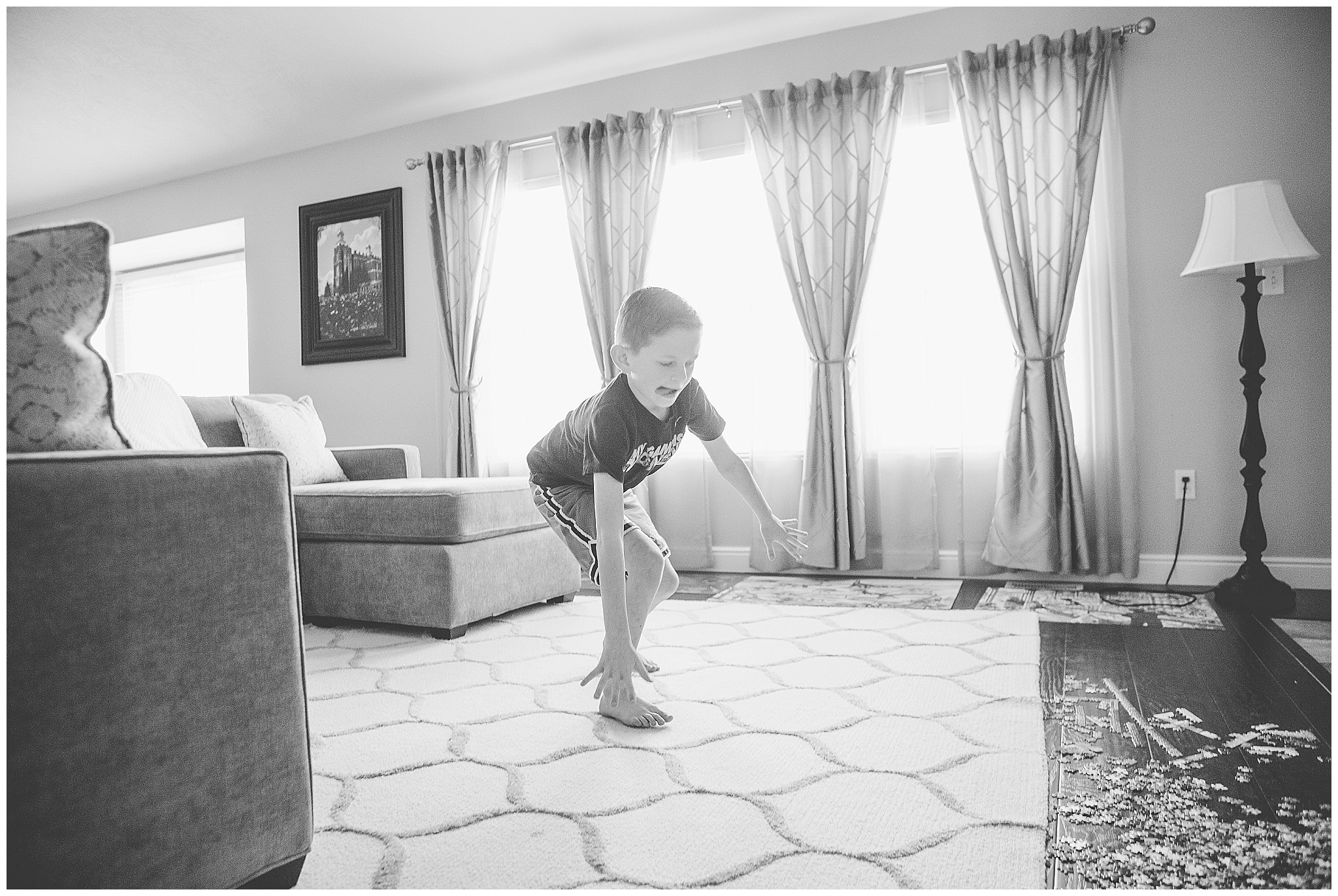 He also loves magic and he has a magic trick that I couldn't figure out.  Most of the time I don't like to figure out magic tricks because I still love to believe magic is real and I can maybe get my Hogwarts letter one day haha.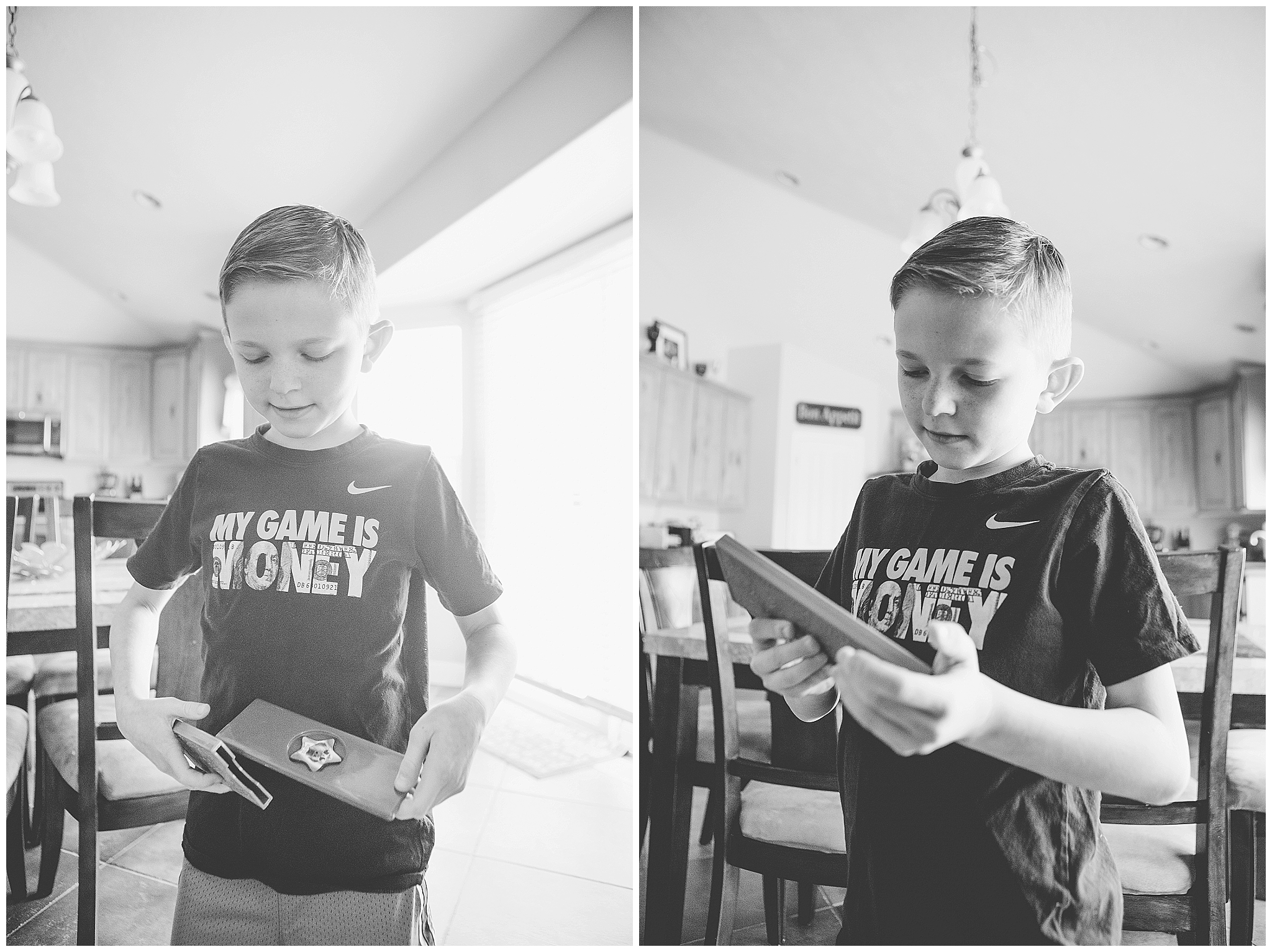 He got out his awesome robot named "Cosmo" that hooks to your iPad and you can teach it tricks, to talk, play games and all kids of really cool things!  When I was a kid we played with dirt….literally….a lot haha.  Loved making mud pies in our back field-my mom didn't like that so much.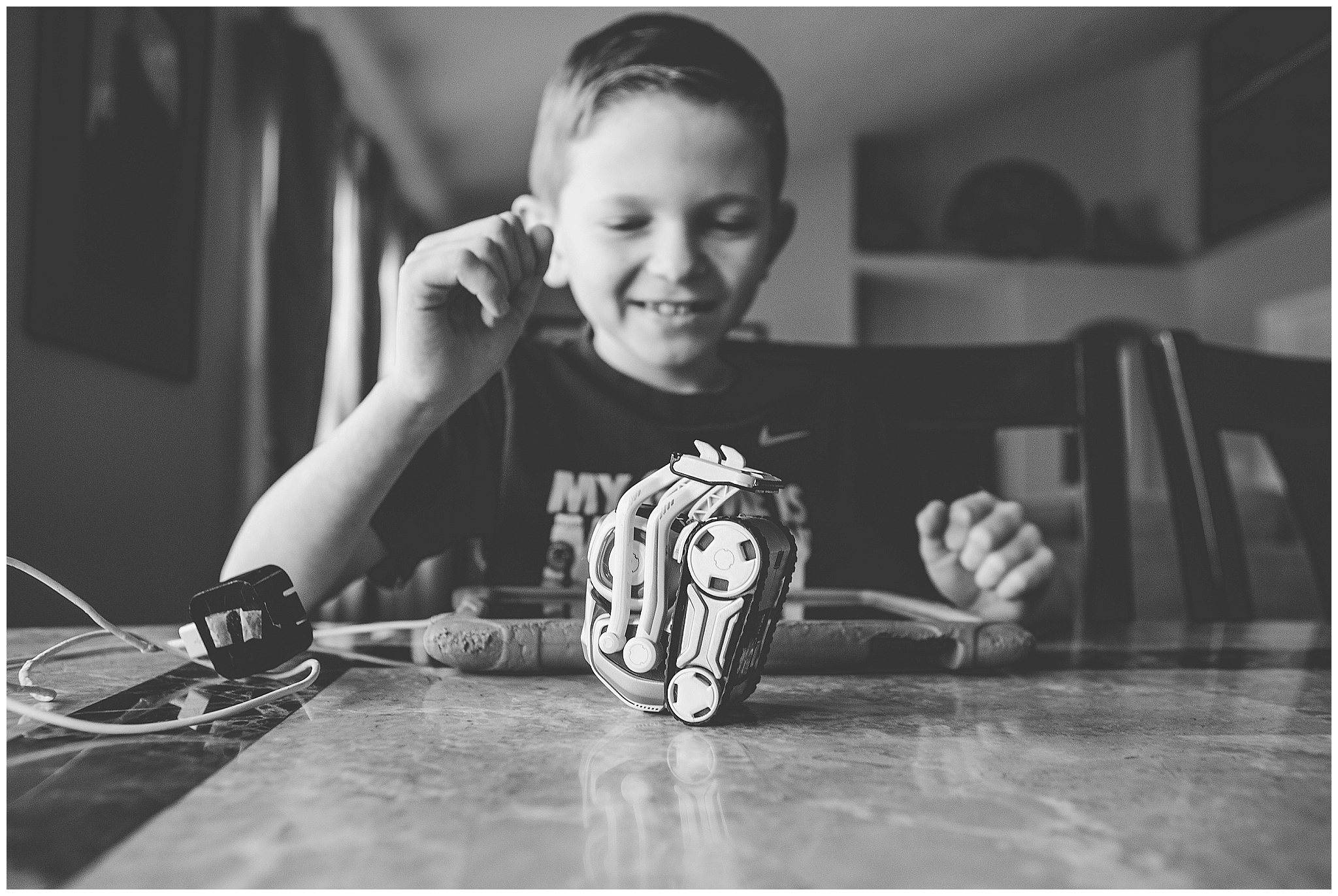 The joy on his face on this one!  I just LOVE it!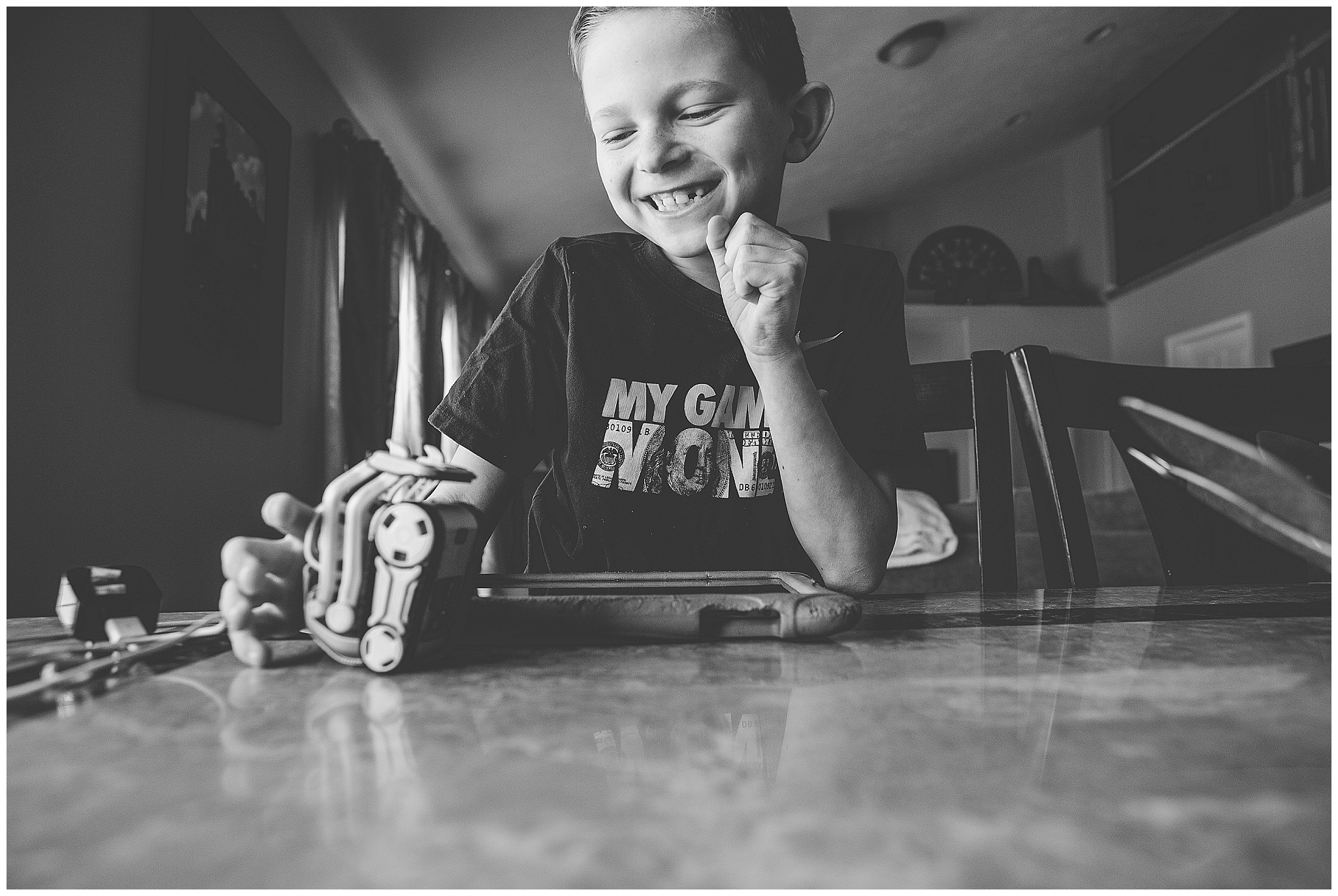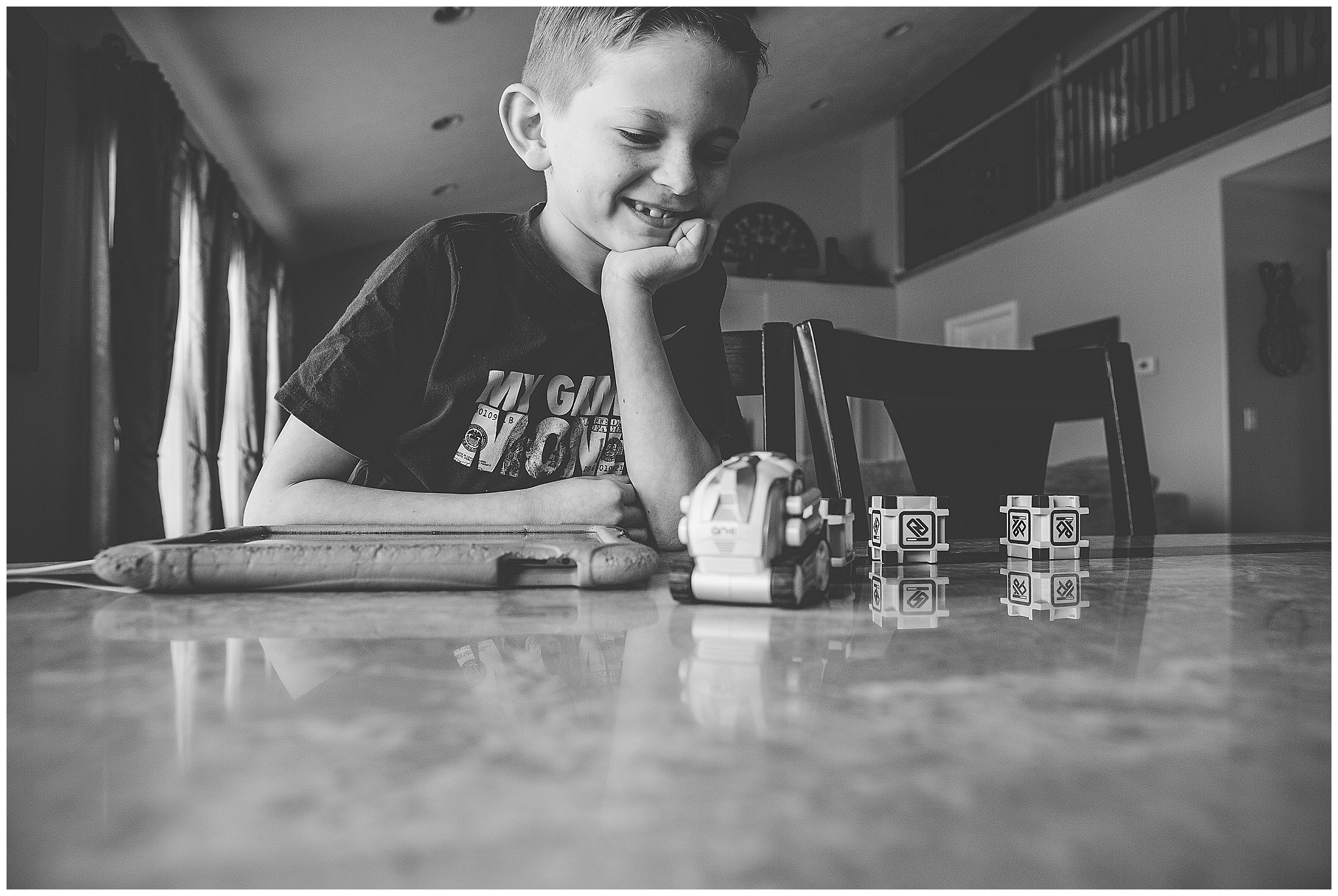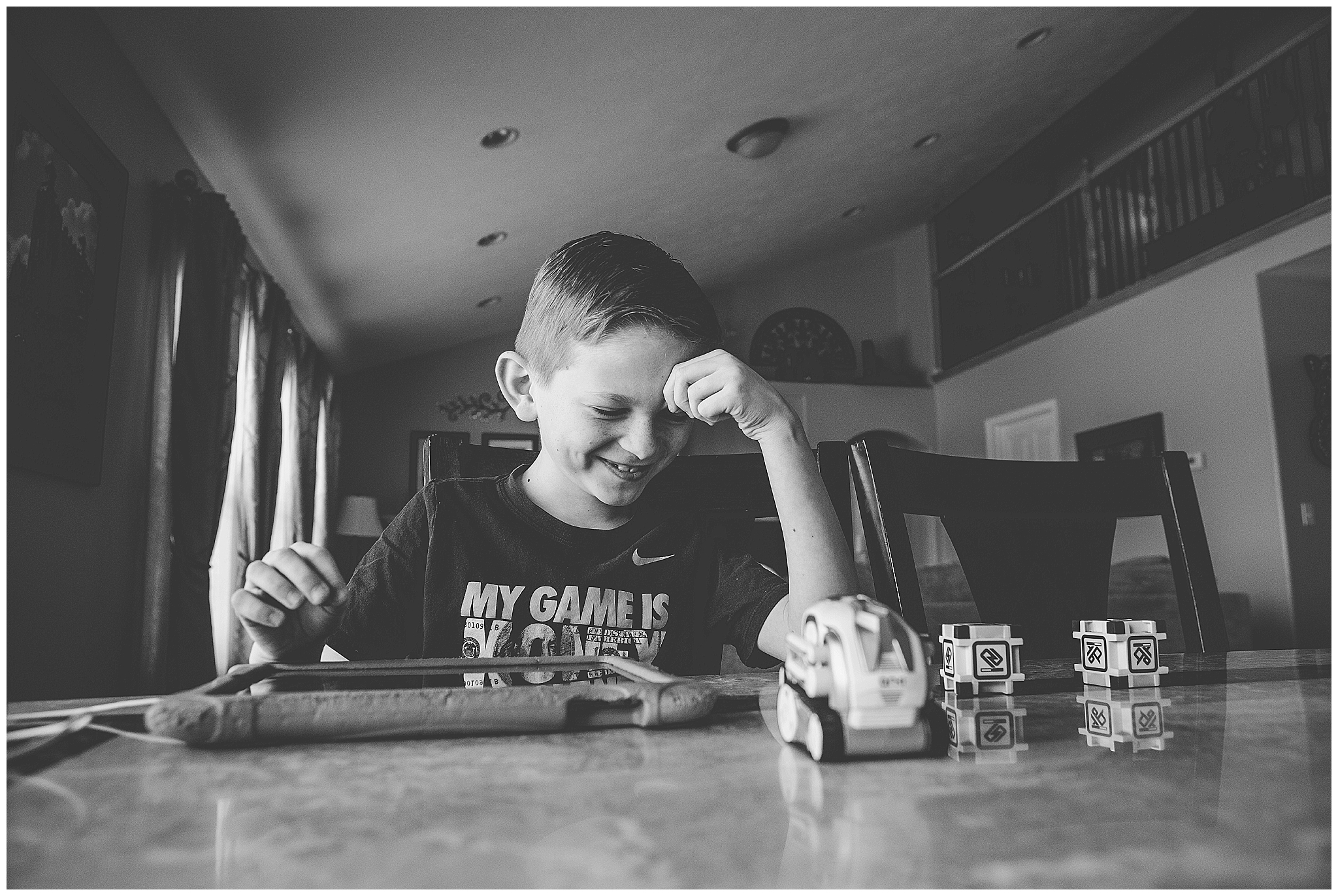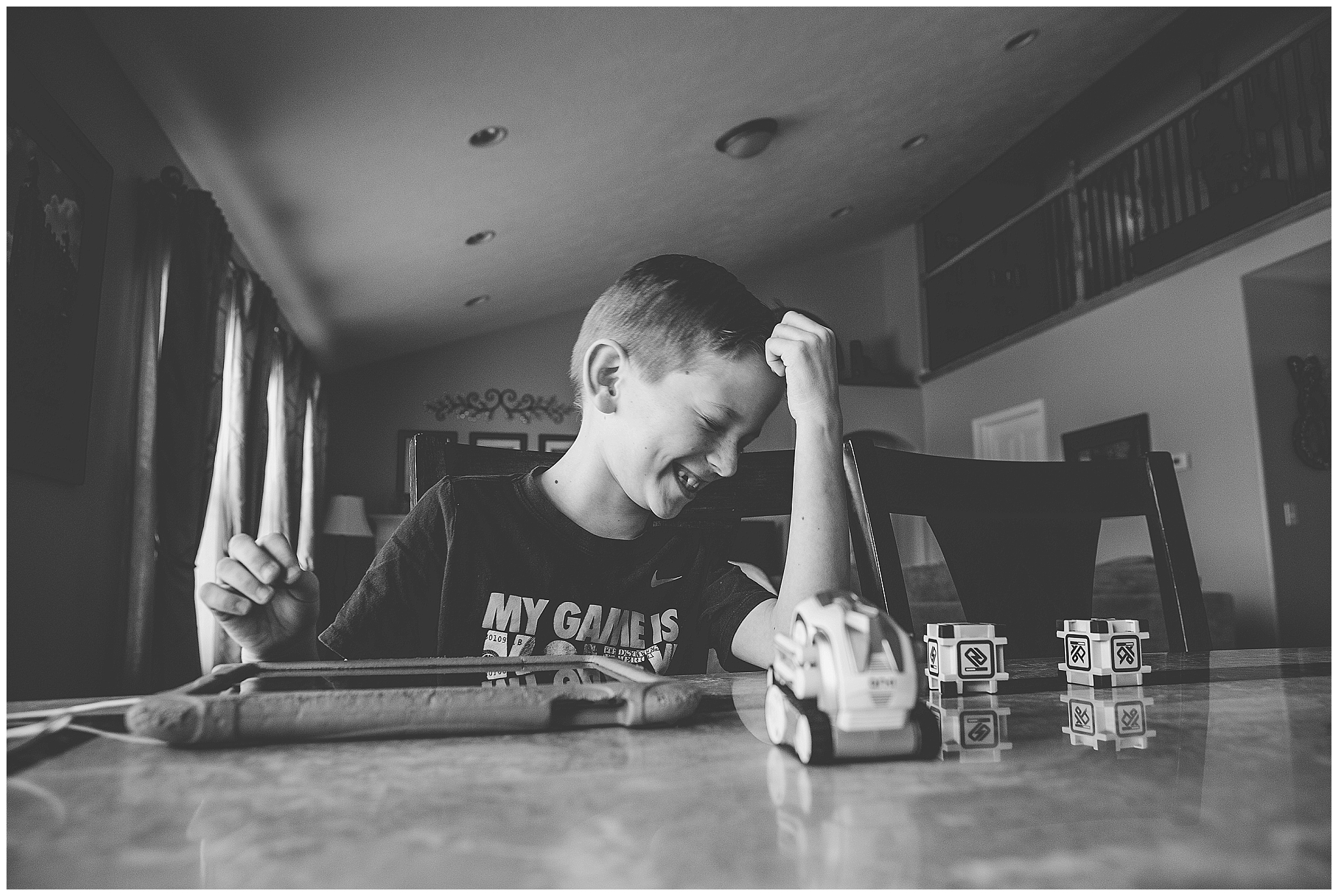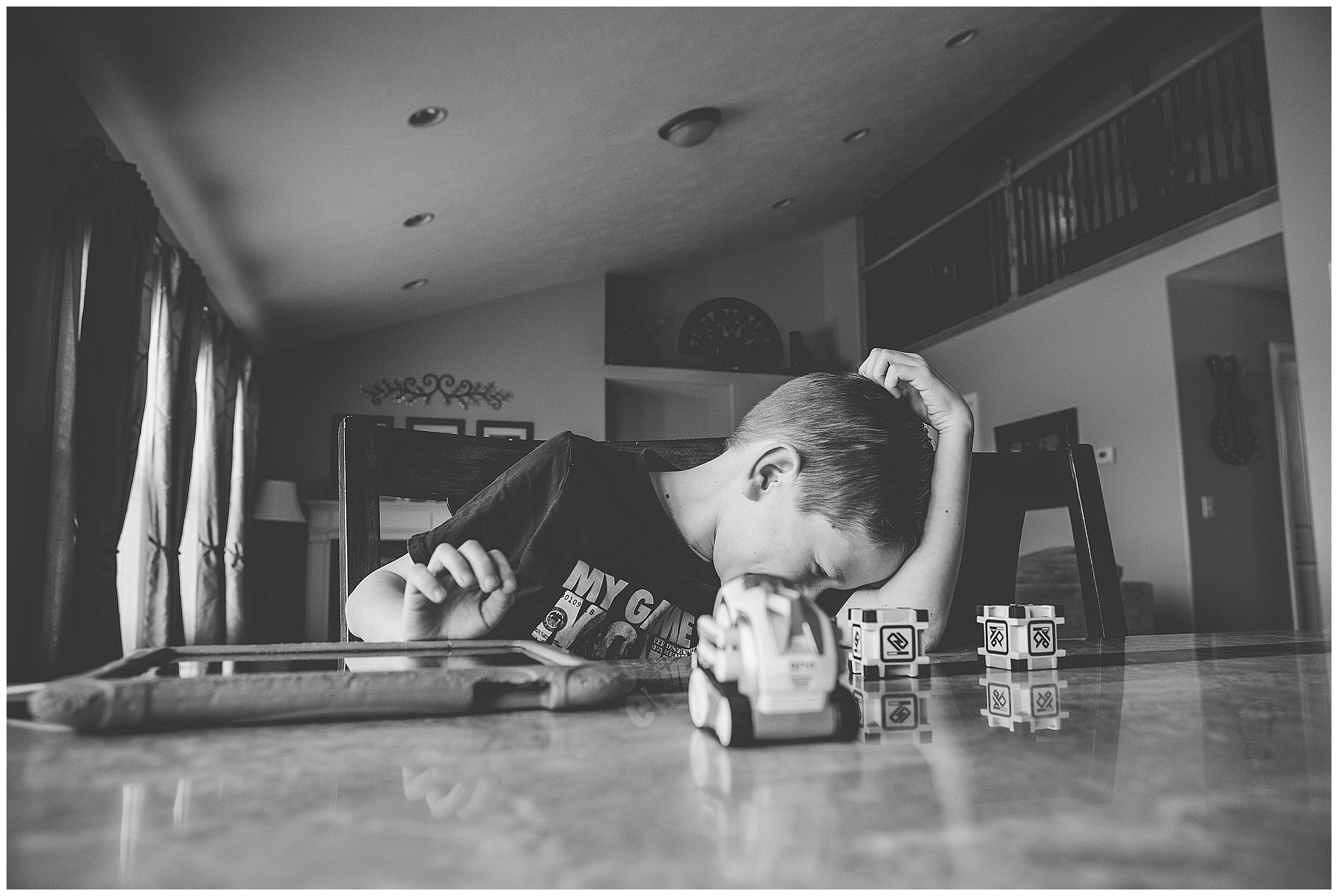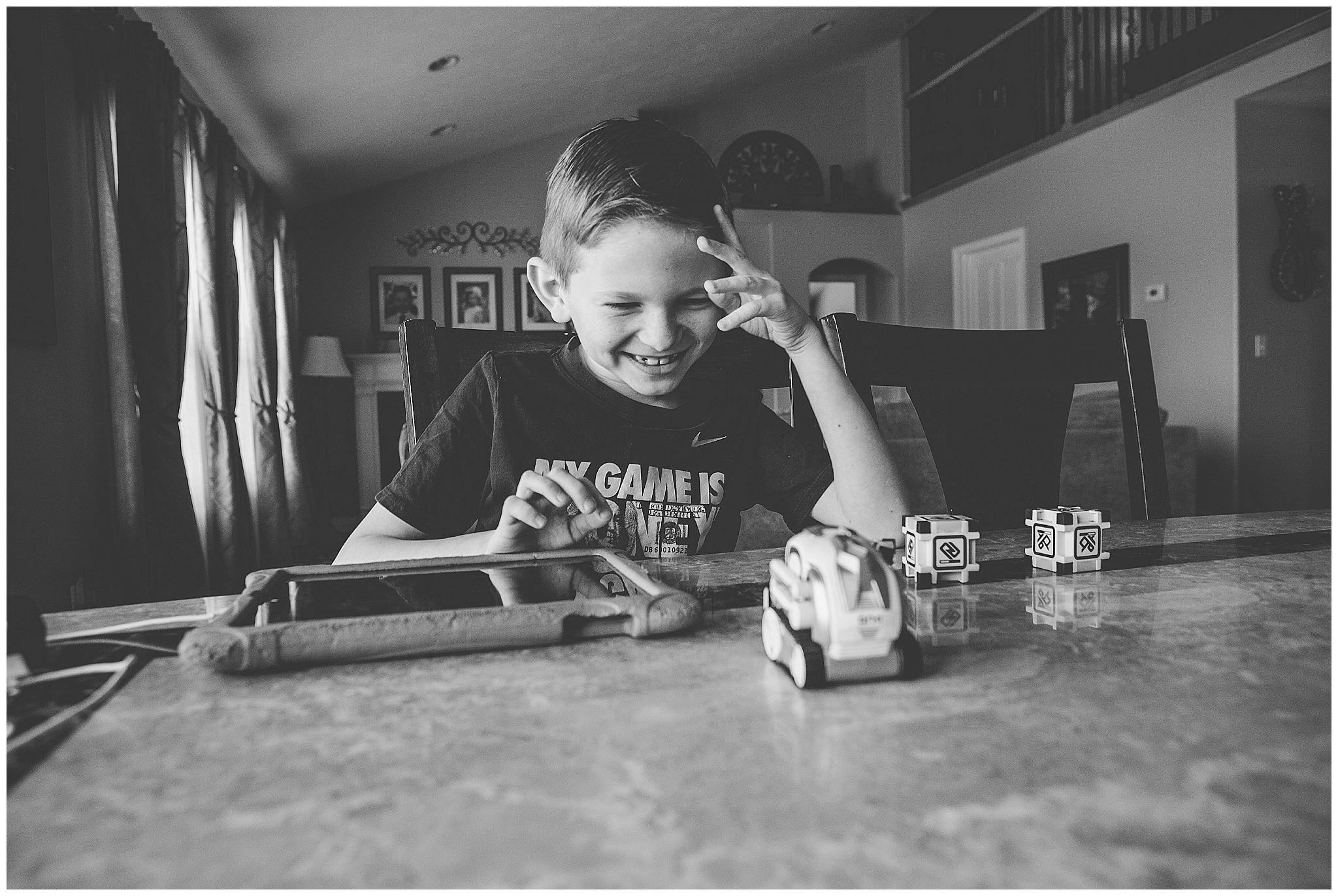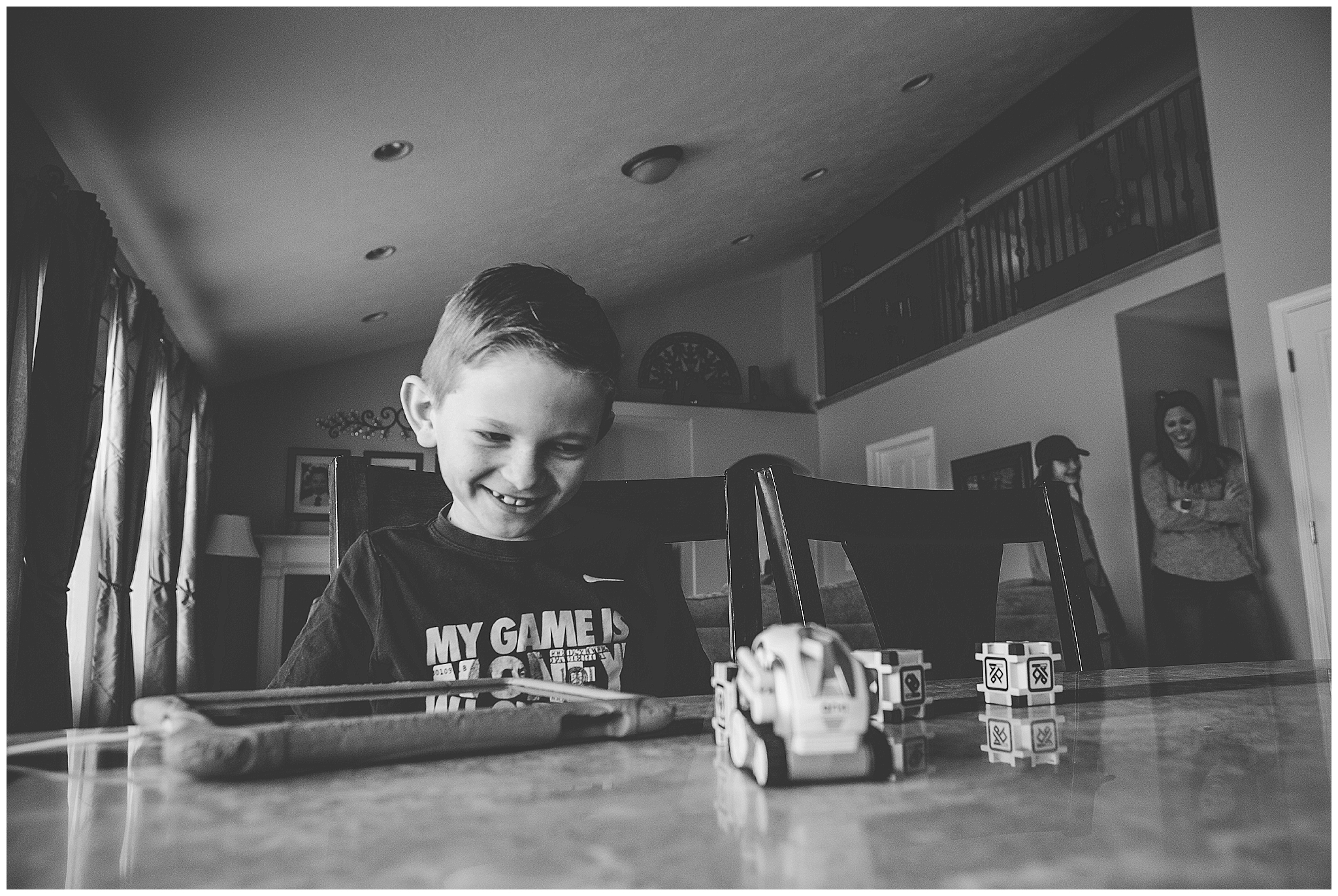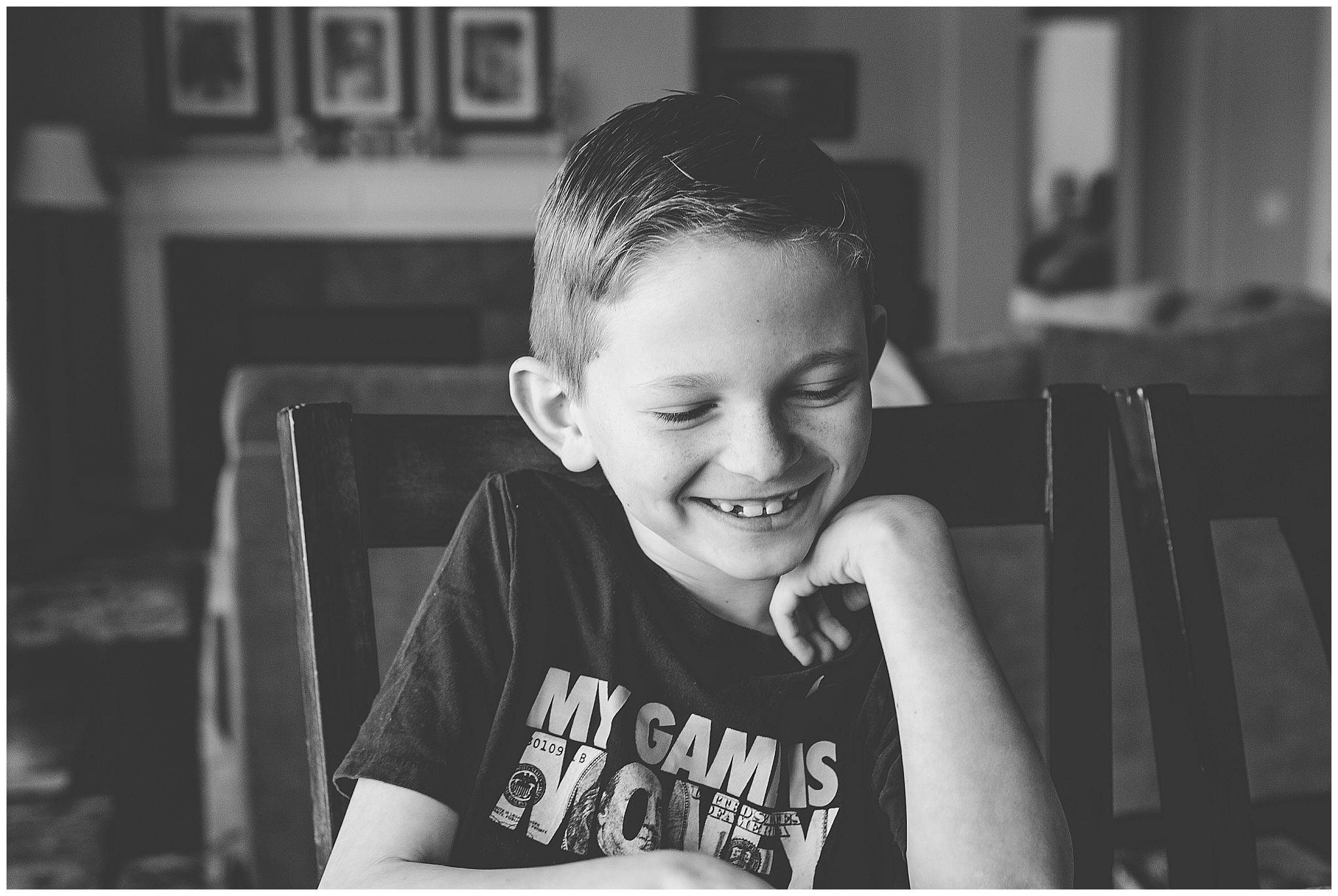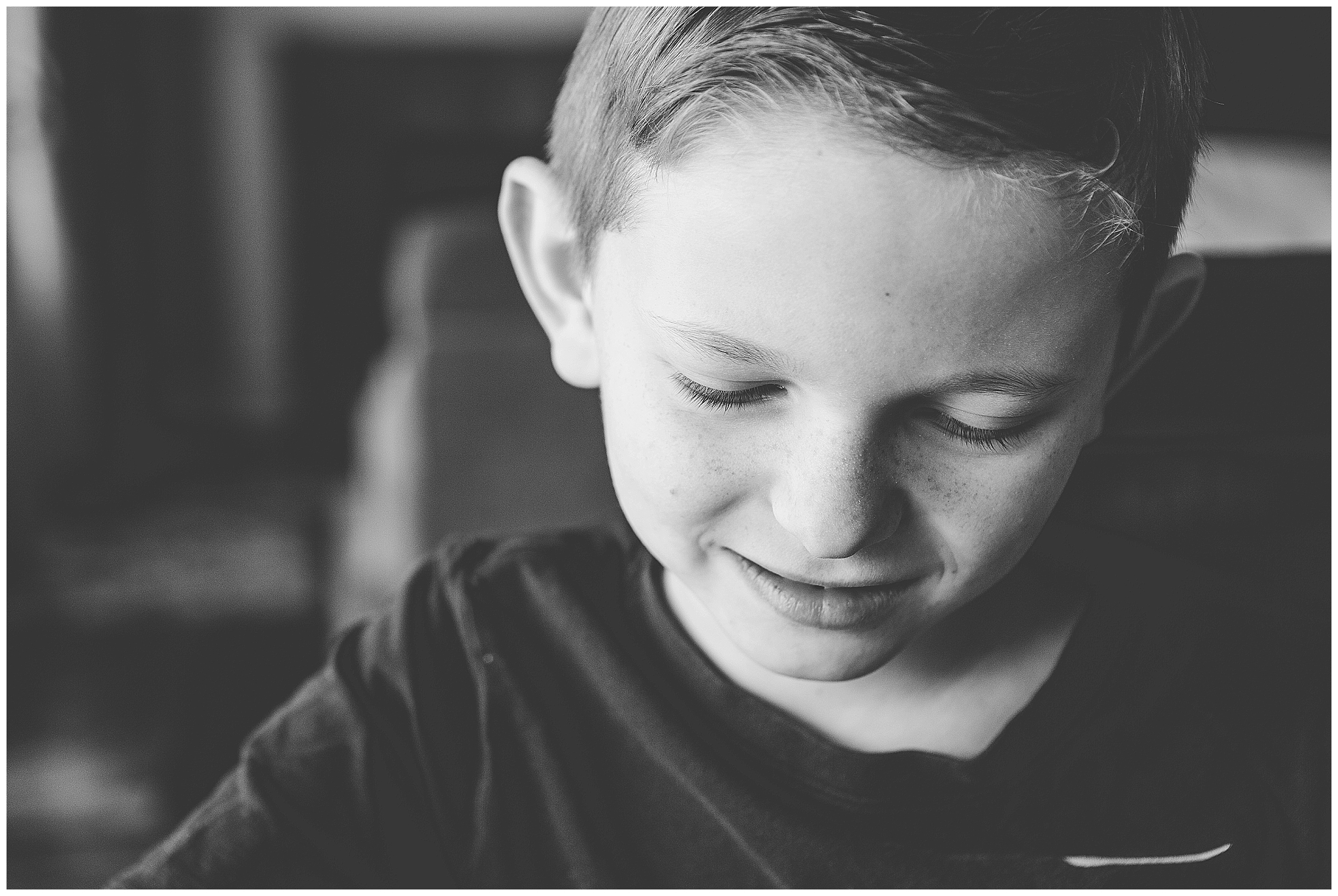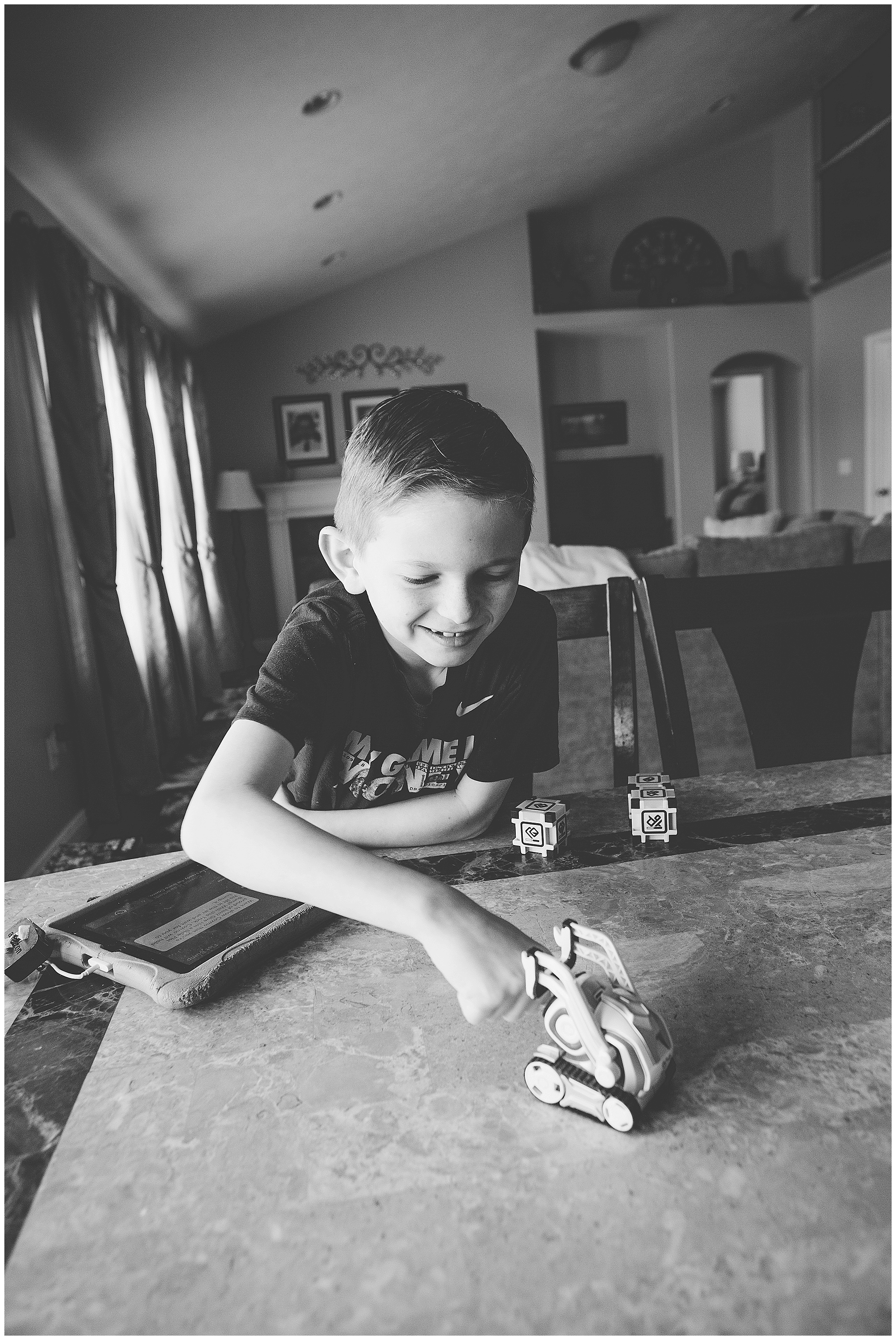 He showed me his beta fish named "Pi".  He has pi memorized to like 20 digits!  I was super impressed!  I only have 3.1415926.  He told me all about what pi is – he really loves numbers and you know, things like fractals.  I had to look up what fractals were because I haven't used that term for at least 20 years!  It's the theoretical fractional dimensions to geometric patterns in nature in case you were wondering.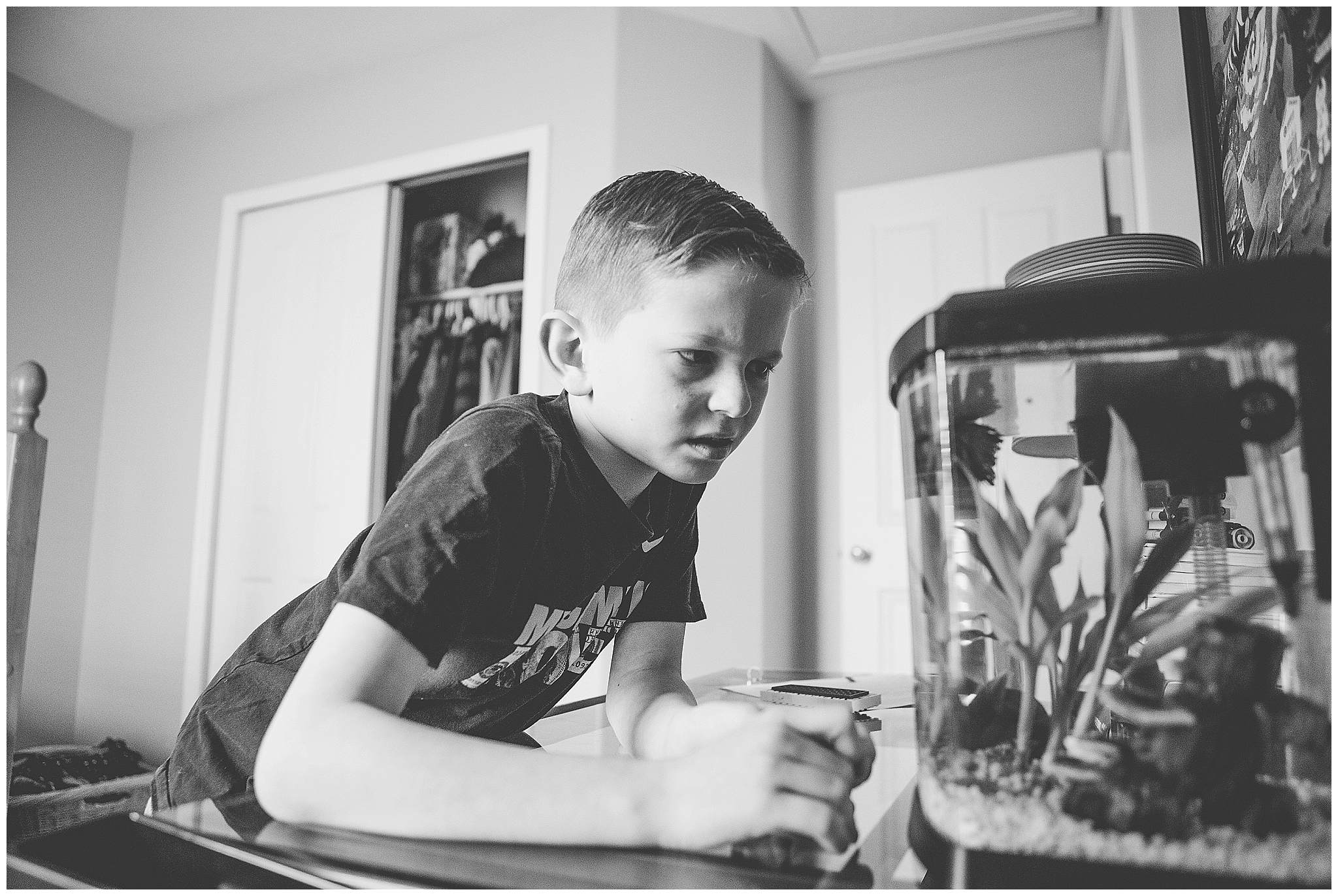 He was done showing me his favorite things but we still wanted a few pictures with his family doing puzzles since as you can see, they have done A LOT!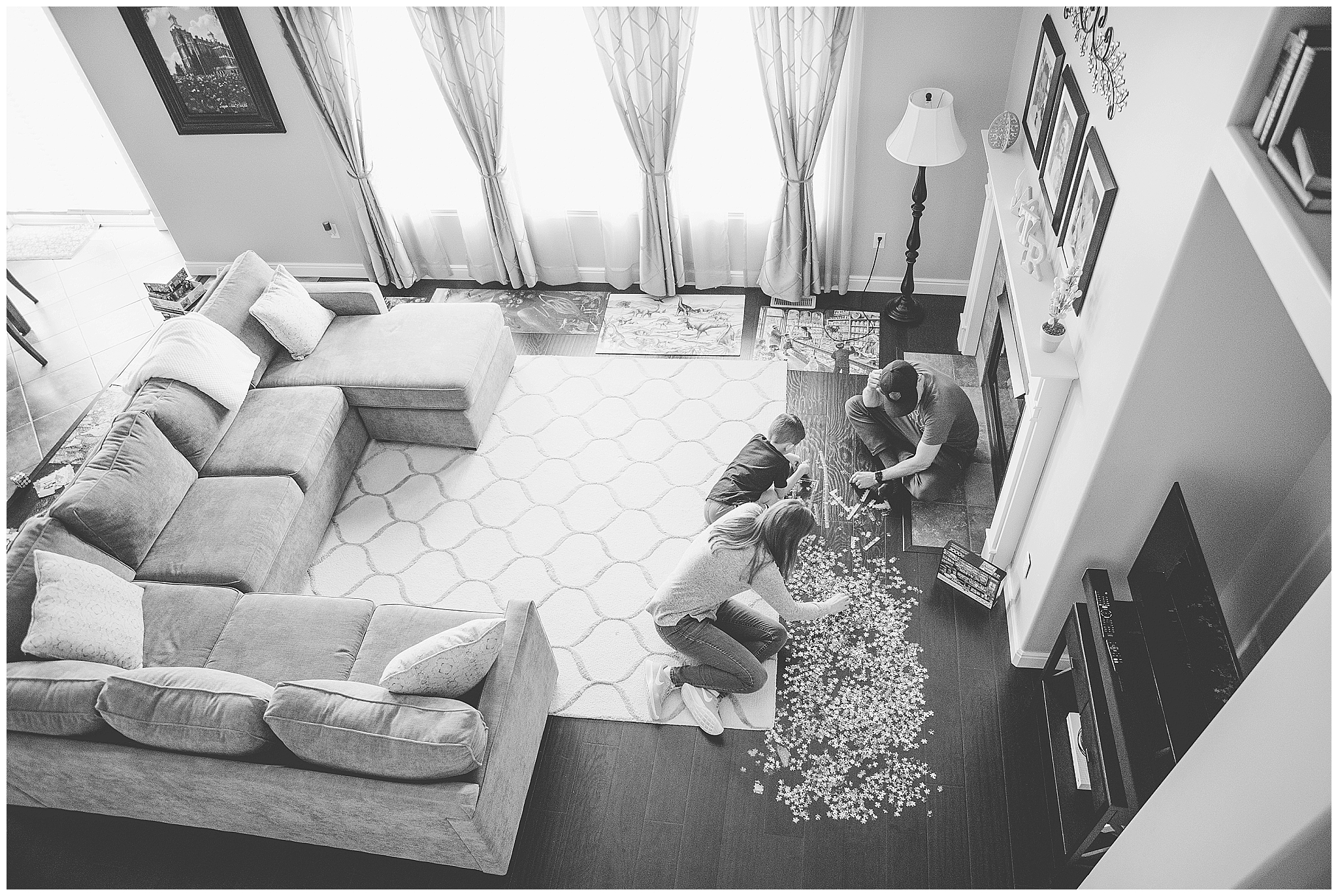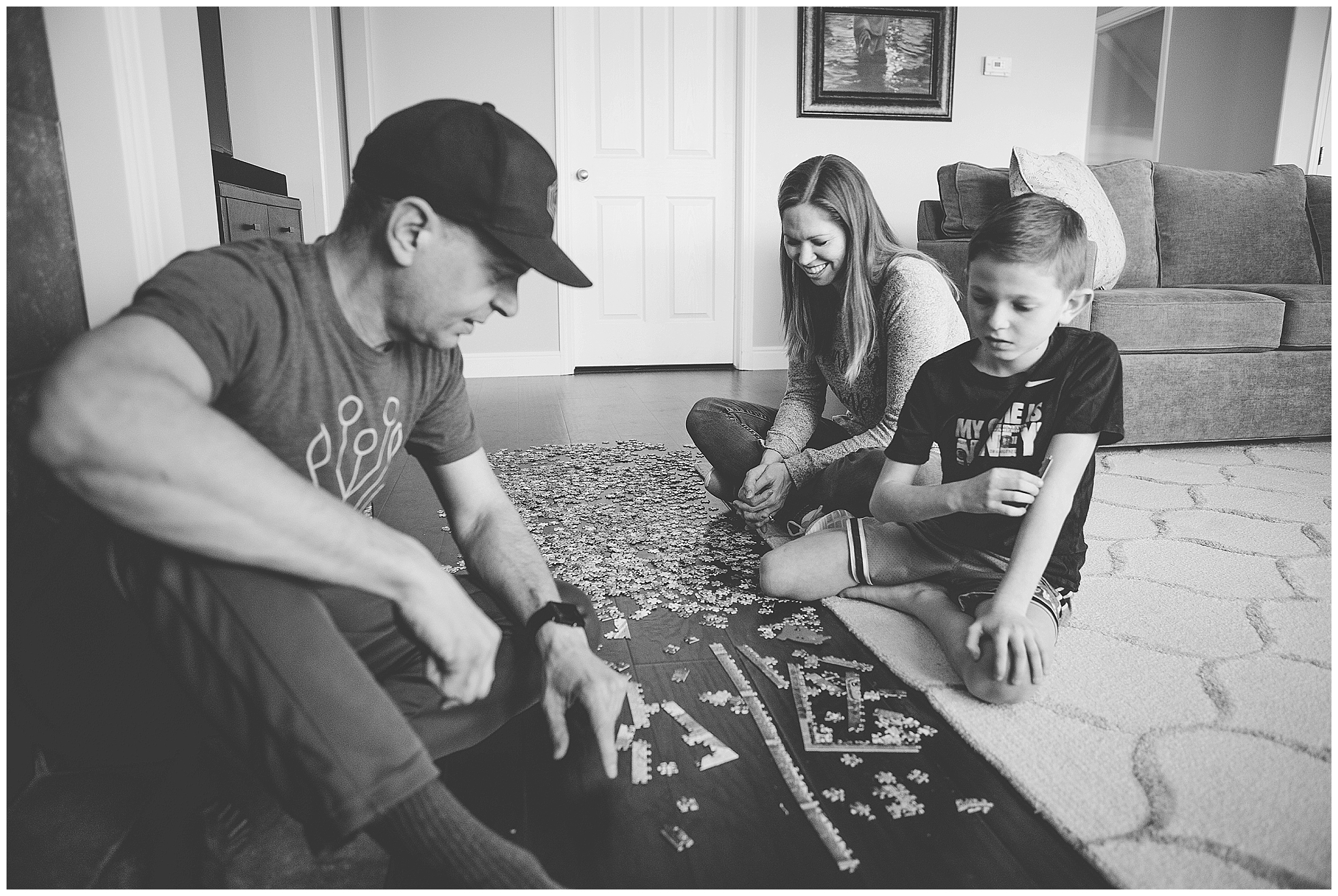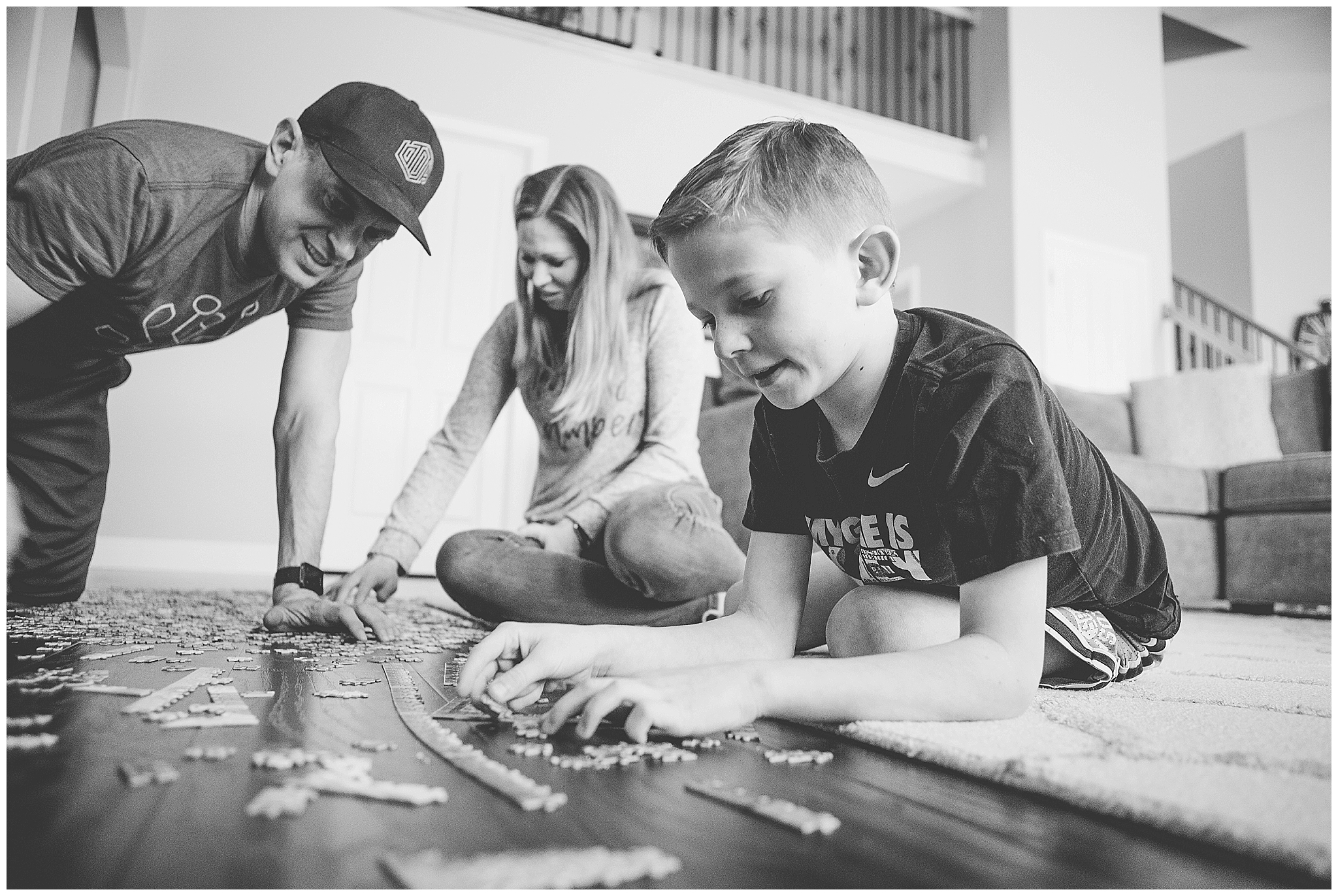 I asked him what his favorite book was that he reads with his dad and he told me "Your Allowance".  Yep a book about using your money in the stock market, supply and demand-really I think more parents need to read books like this to their kids!  Such great life skills in there for not only them, but us adults!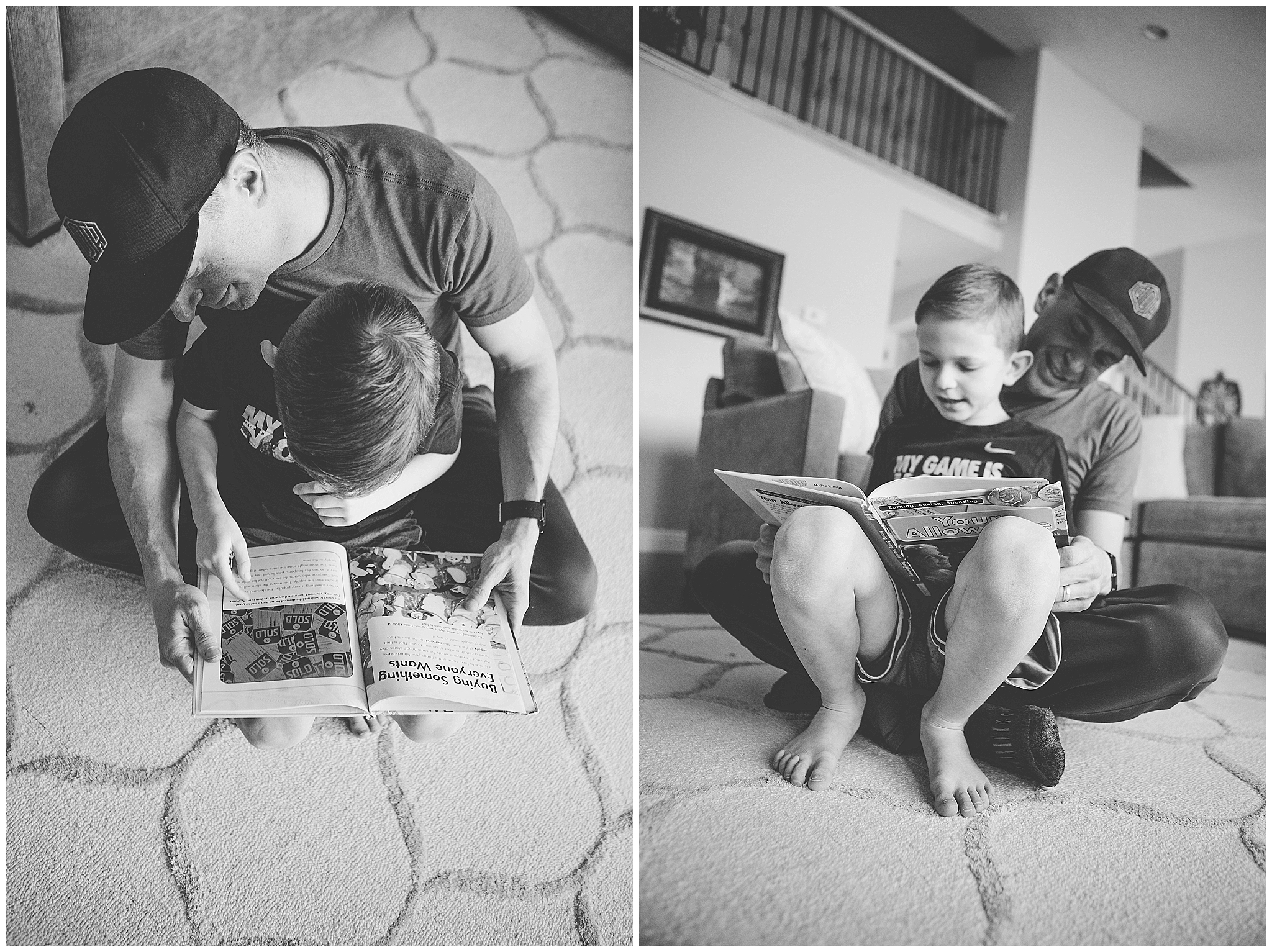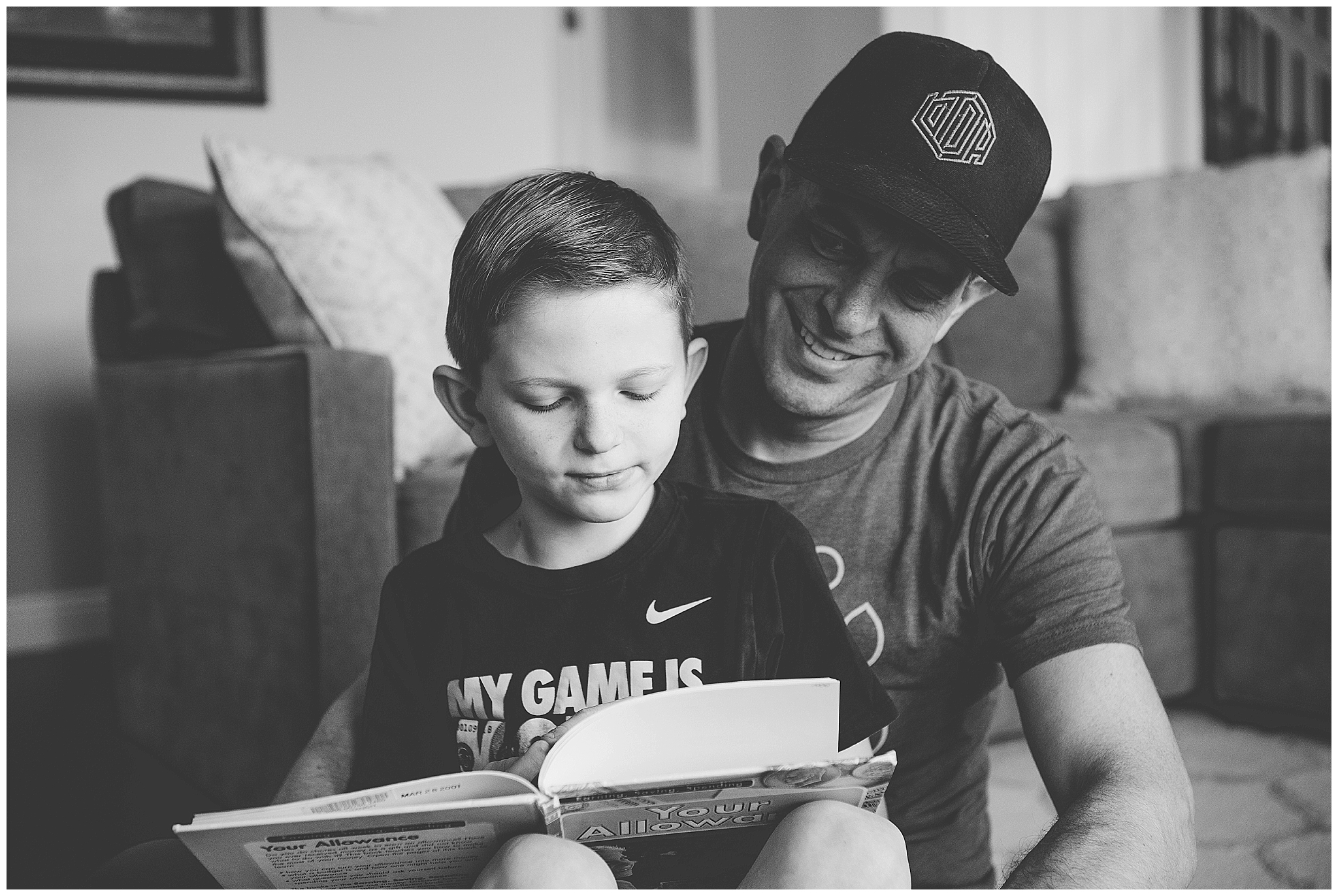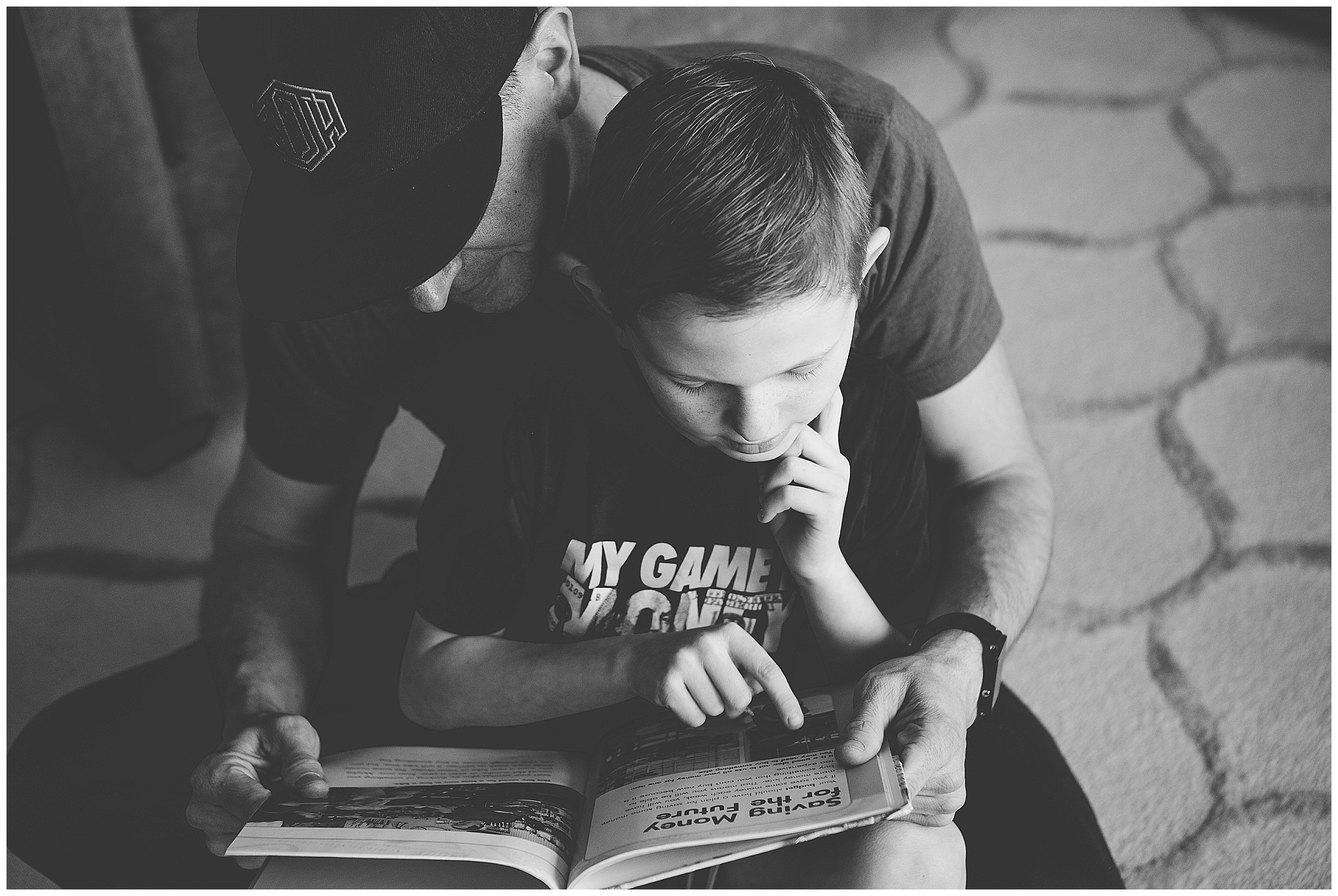 Mom's favorite book to read with him is Harry Potter.  We pulled out the gorgeous illustrated first book and I loved that he wanted to read out loud to me!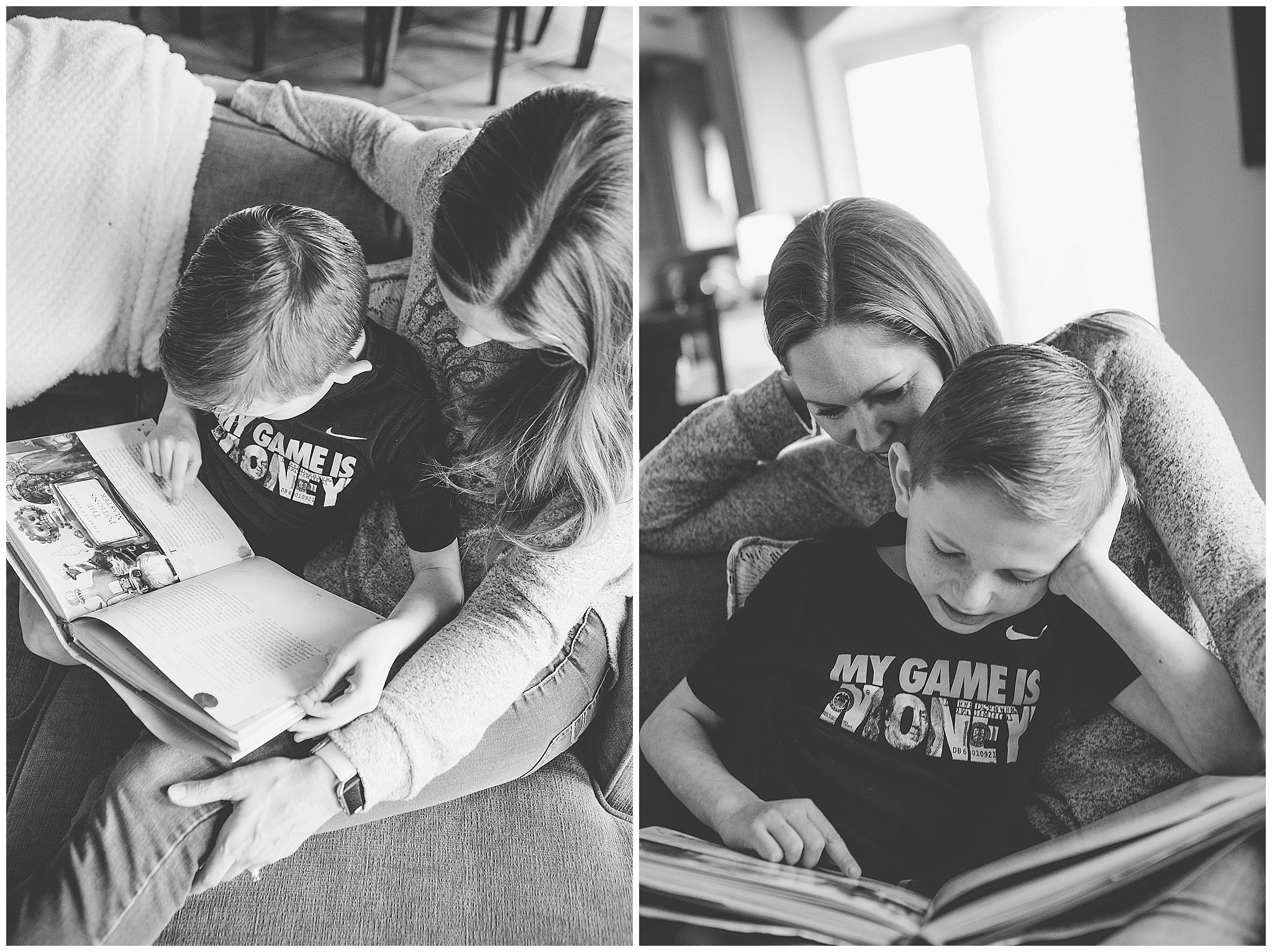 I kept seeing his mom and him mirror each other without them even knowing it.  Seriously watch some of the pictures below-you'd think they were related or something!!!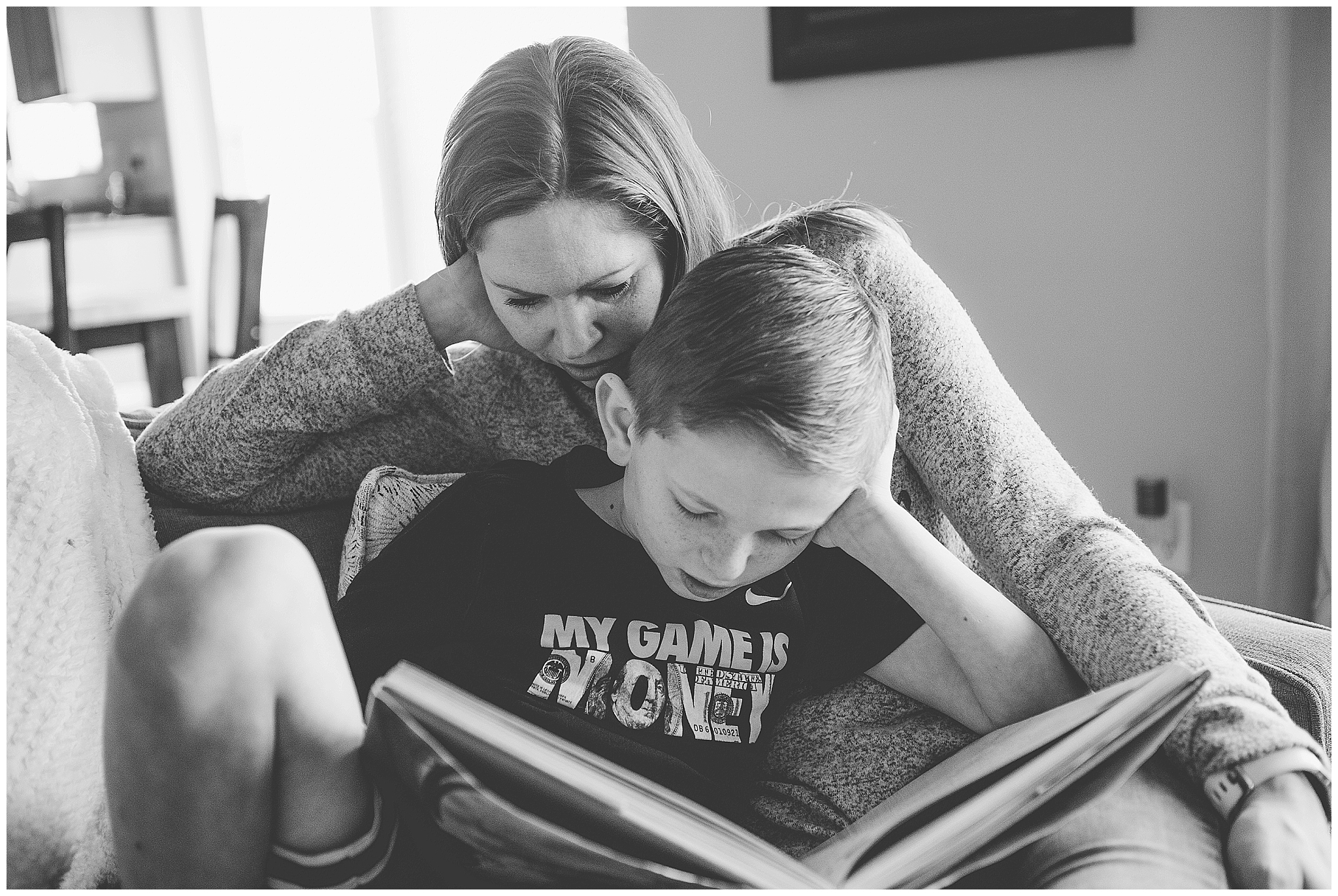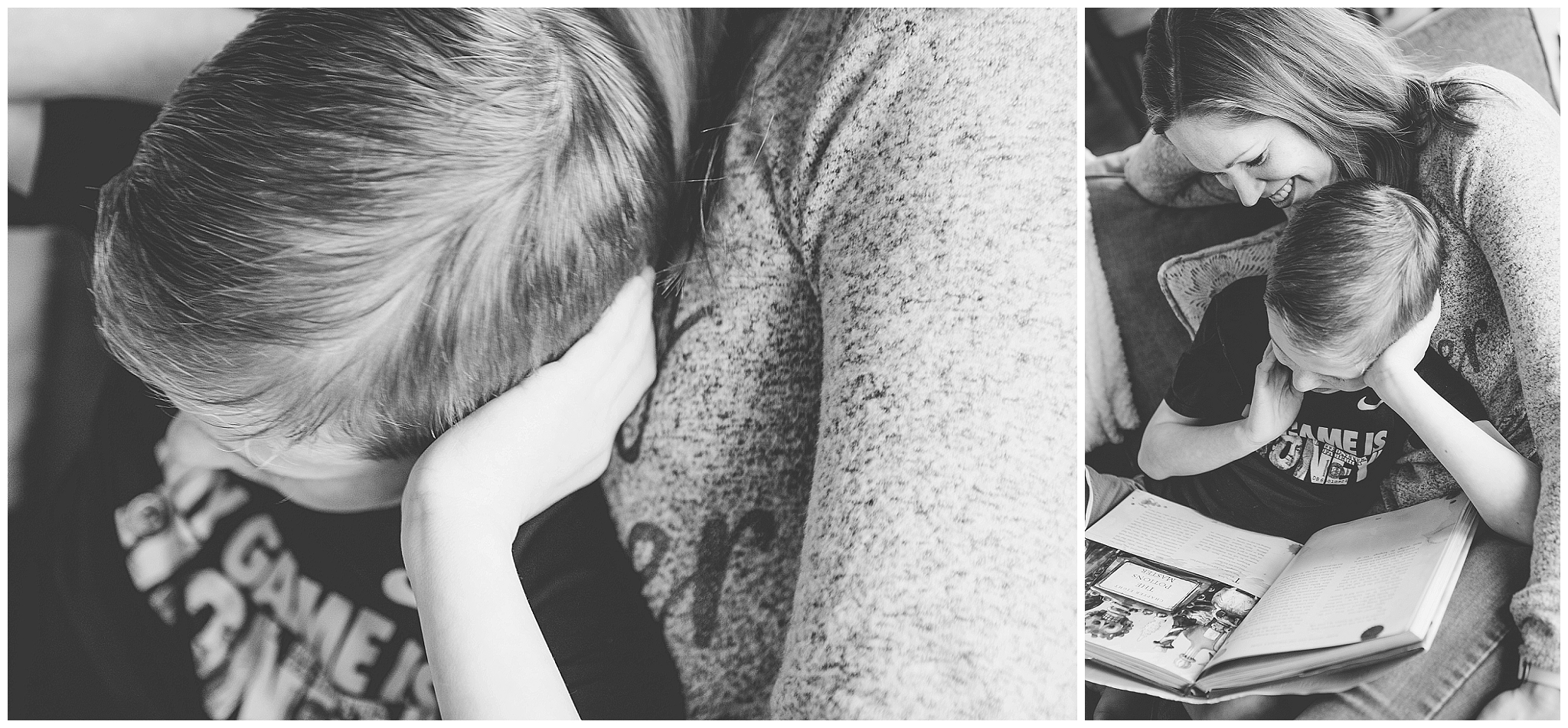 He even turned the book towards me as he was reading so I could see the pictures.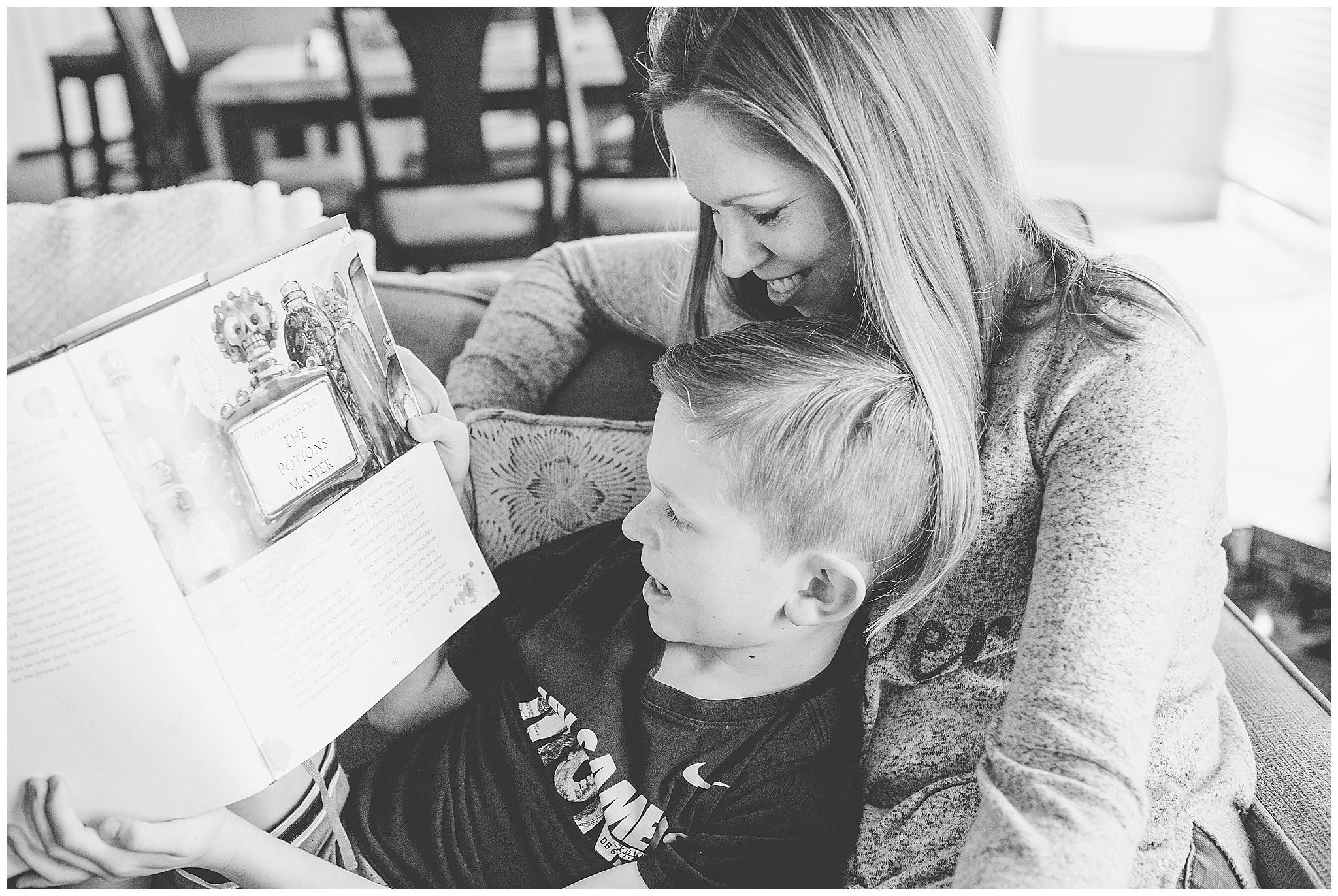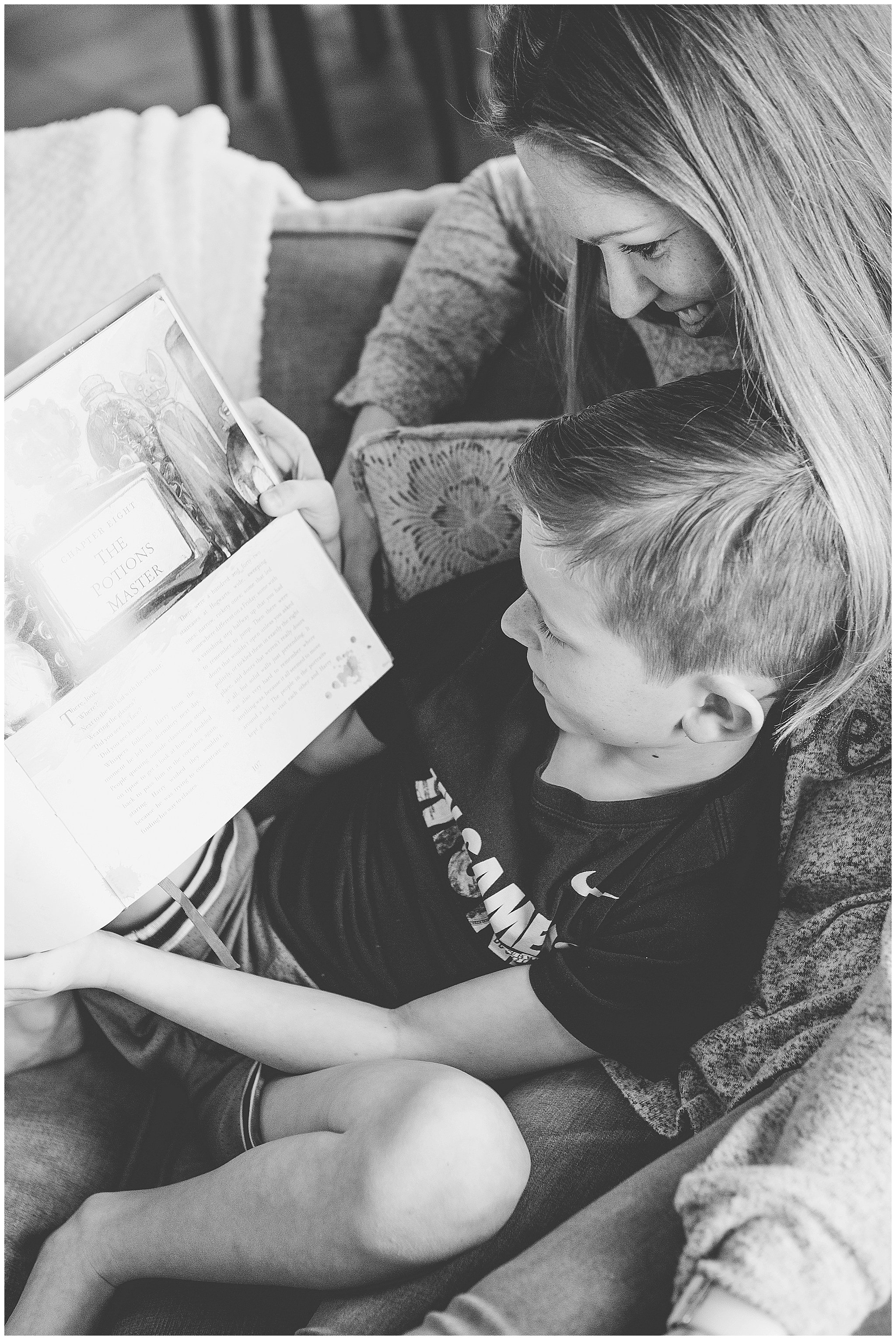 If you look close you can see that he has created his own puzzle pieces out of cardboard.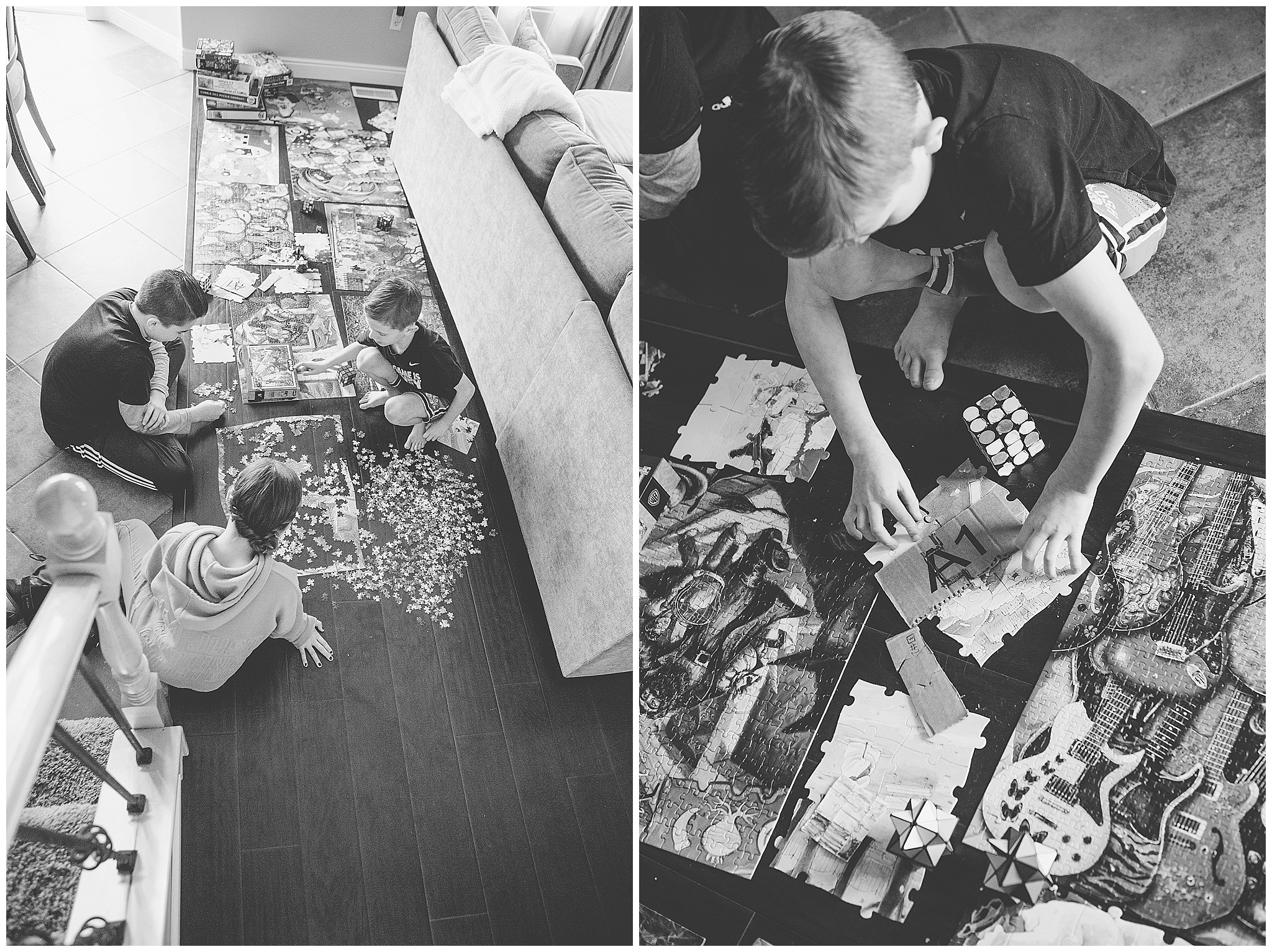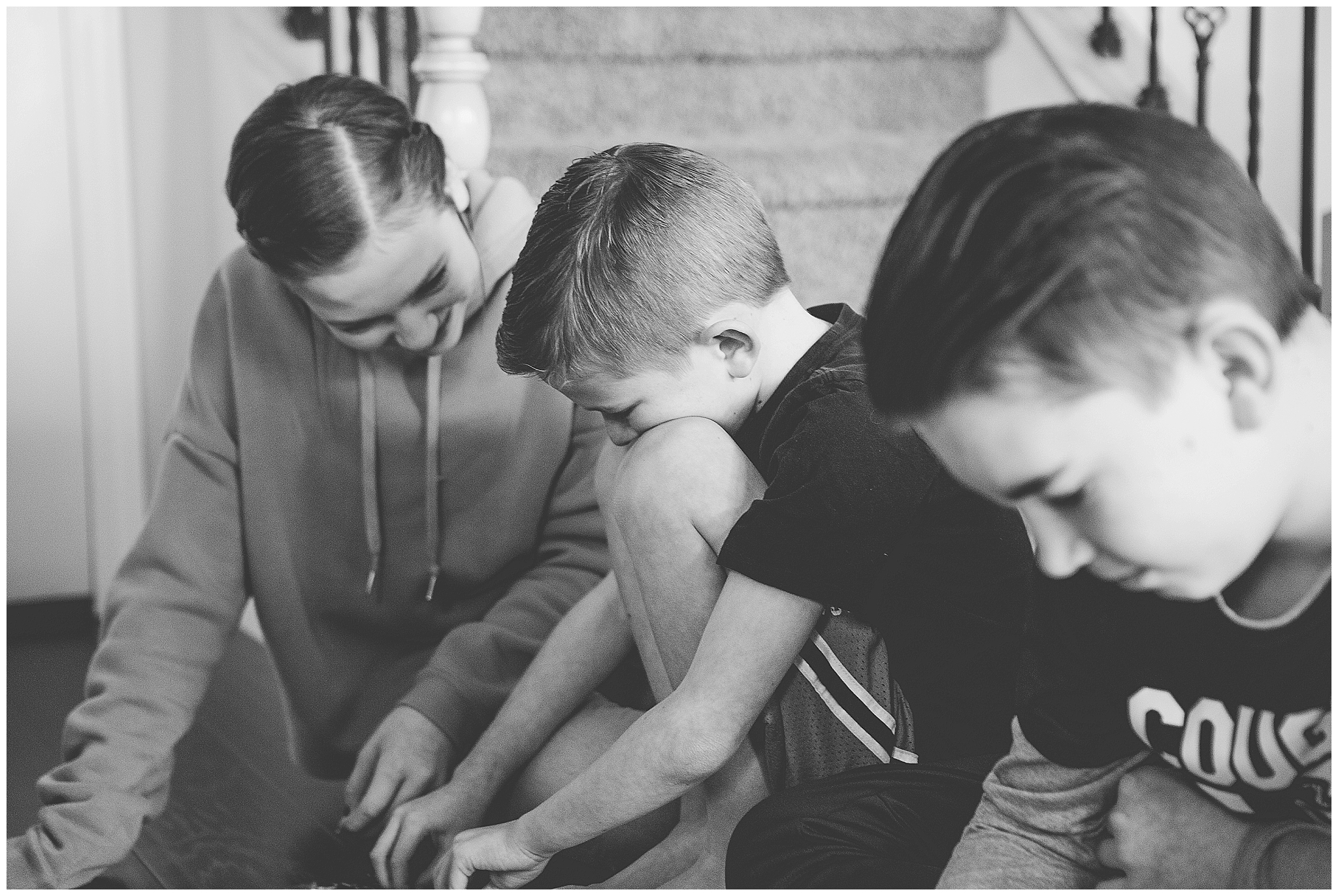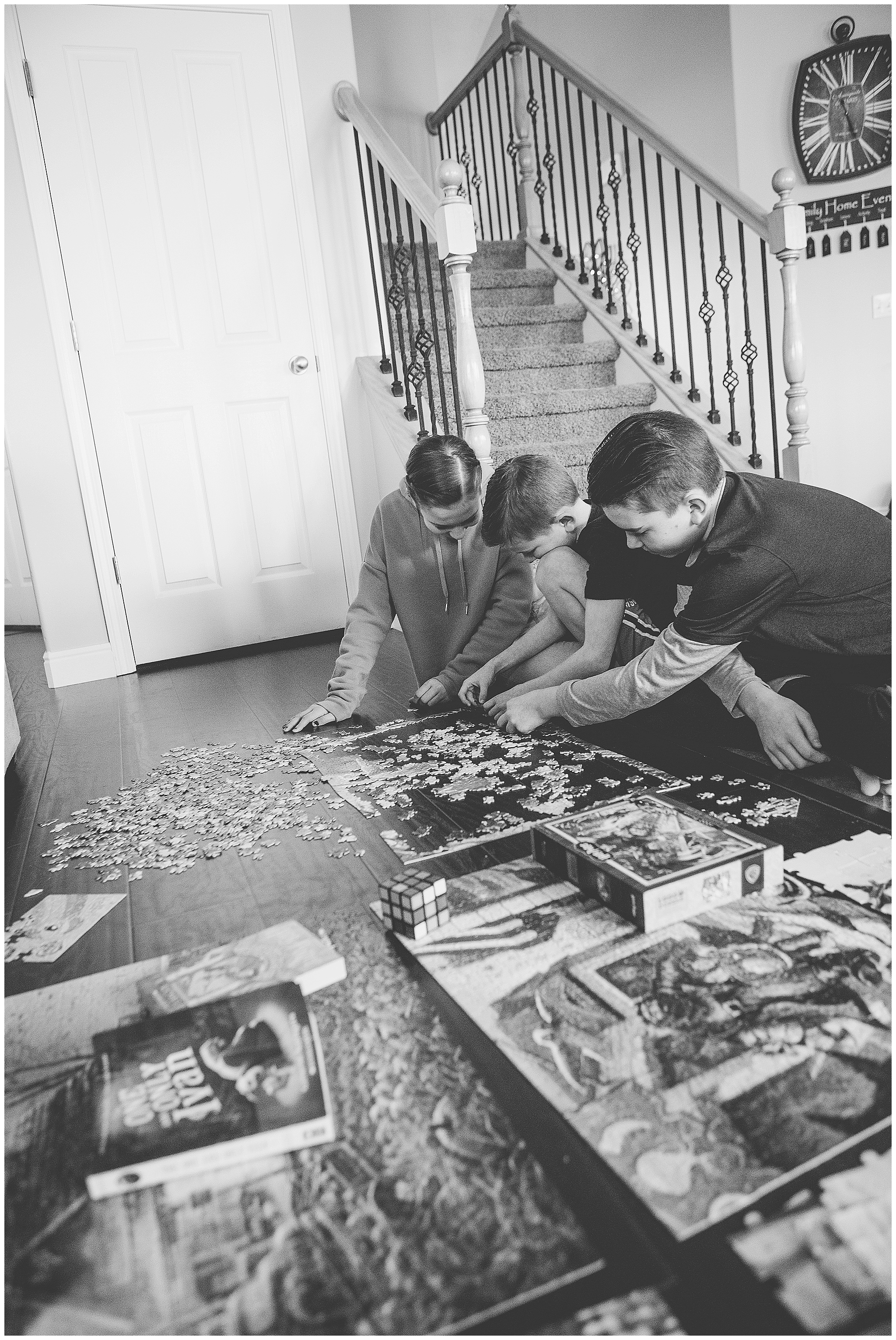 While we were shooting I would hear his siblings say how cute he was and I just loved hearing them just gloat over their cute baby brother.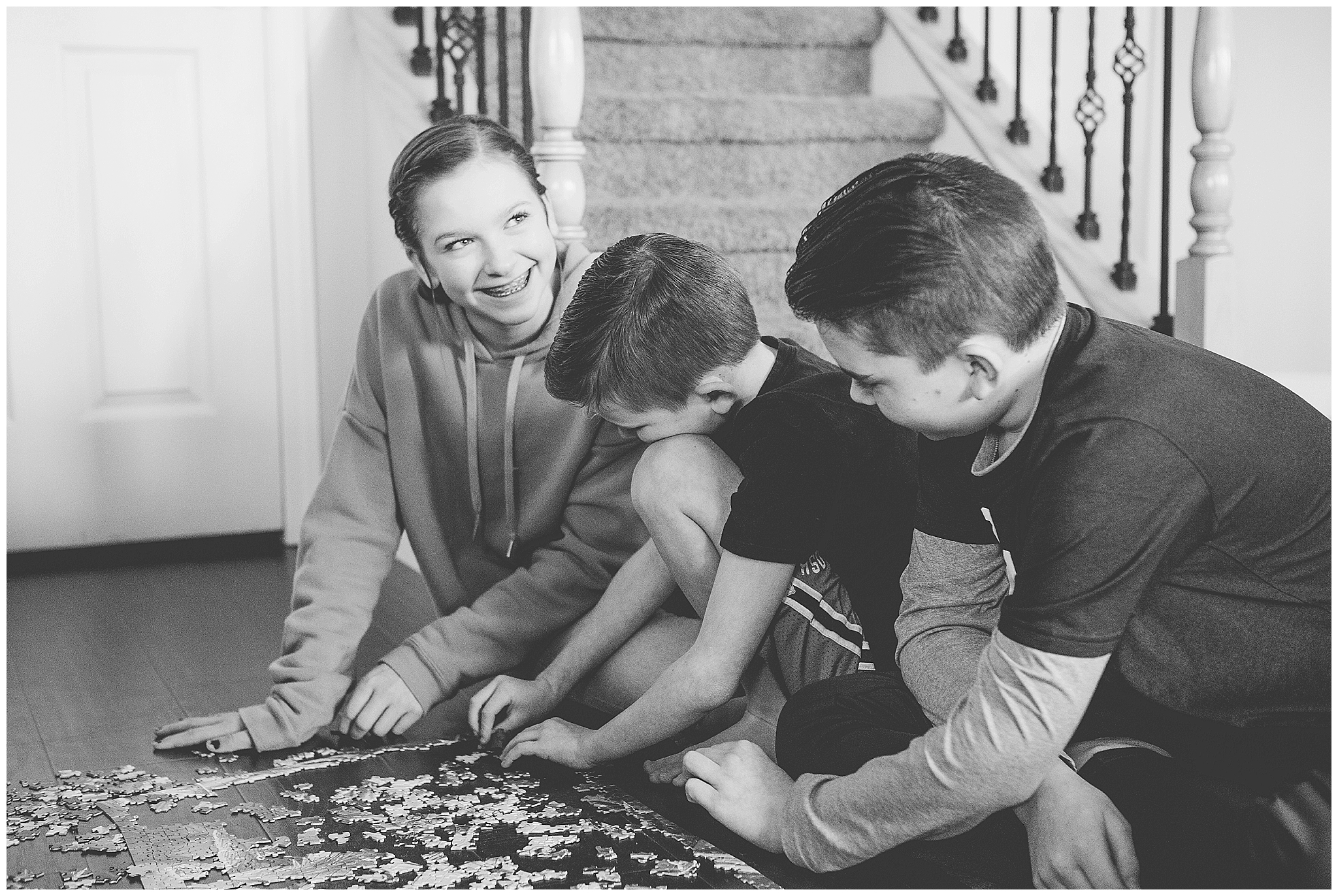 I was about to leave but then I told him about the Rubik Cube magician that was on America's Got Talent.  Jacob was amazed (ok we all were!) at his magic tricks with the Rubik Cube.  I think it may have inspired him for a future career…well if being a mathematician doesn't work out.  He was throwing his cube in the air and was pretty disappointed when it didn't change like the magician's did.  I think he may figure it out.  For me, I'll just let it stay magic and he can be a wizard someday and show it to me!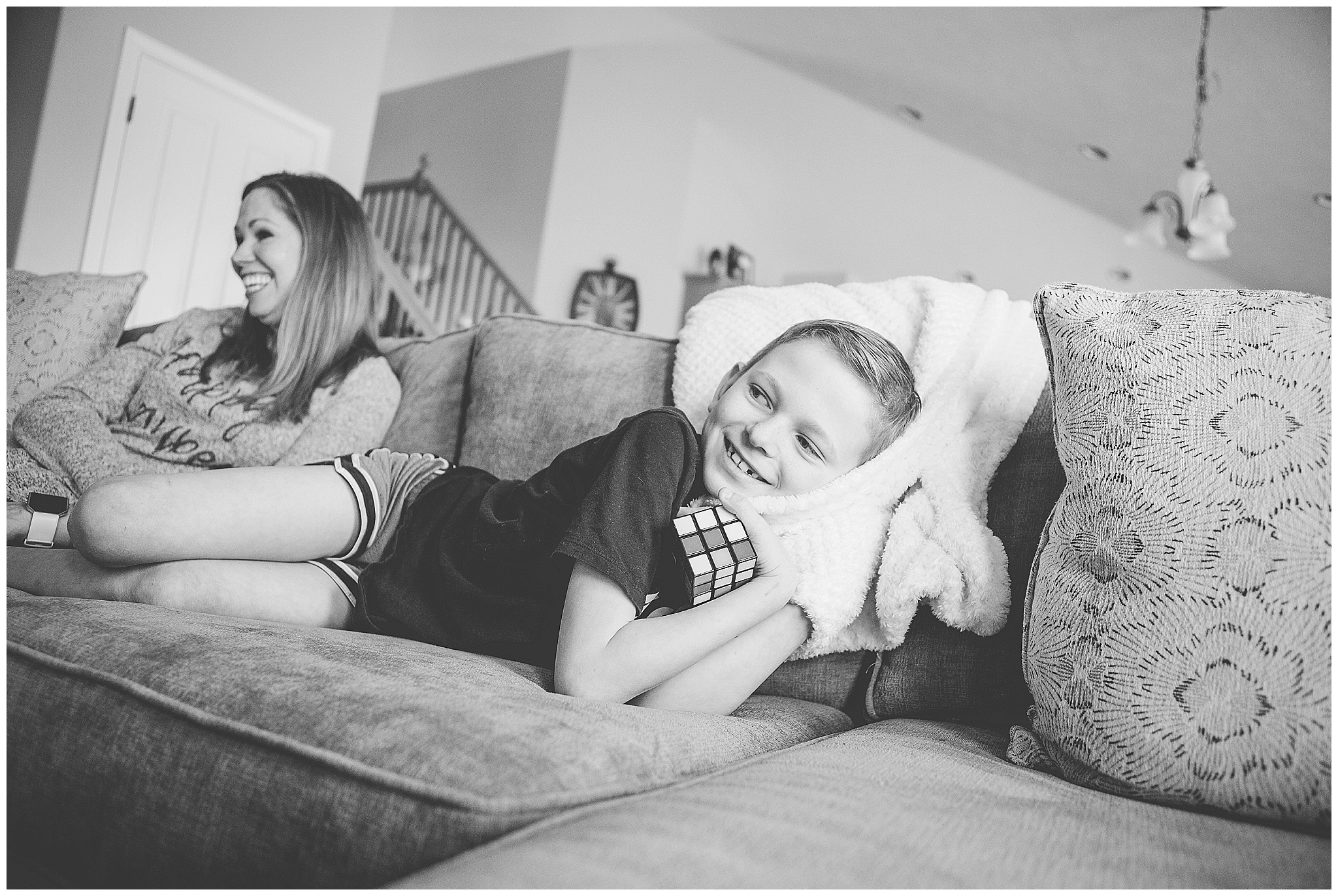 As I was leaving he gave me a hug, a high five and a kiss and told me he loves me.  I feel the same way buddy!  Thanks for letting me come and hang out!